The space shuttle is docked to the ISS. Would you like a call when the pair fly over your backyard? Sign up for SpaceWeather PHONE.

QUIETING SUN: The slow decay of sunspot 960 continues, and it now poses no threat for strong solar flares or radiation storms. Spacewalking astronauts have nothing to fear from the quieting sun.

TWO SPACESHIPS: "After a day of playing cat and mouse, Atlantis has finally docked with the International Space Station," says Frank Ryan Jr. who photographed the pair flying over Shannon, Ireland, last night: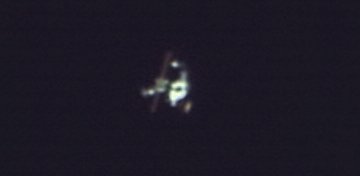 Rivaling Venus in brightness, Atlantis and the ISS are easy to see through backyard telescopes. (The trick is knowing when to look.) Ryan captured his image using a 5-inch Meade ETX-125 telescope and a digital webcam. "I stacked 30 good frames and processed them in Registax. The results really surprised me!"
more images: from Ralf Vandebergh of the Netherlands; from David Campbell of Didcot, Oxfordshire, UK; from Rudolf Dobesberger of Neuzeug Austria
BLUE PLANETS: Winds of 30 to 40 mph were swirling around DeSoto, Kansas, last week when photographer Doug Zubenel "stepped outside to enjoy the windy black night. Immediately, I noticed a blue corona around Venus," he says: image.
Next, he turned his telescope toward Jupiter, and it was blue, too: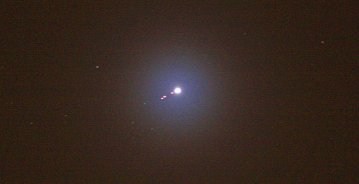 "Three of Jupiter's largest moons are lined up next to Jupiter at the 8 o'clock postion," notes Zubenel.
Why was everything blue? Atmospheric optics expert Les Cowley measured the diameter of the corona and concluded that "it was caused by dust particles about 38 micron (1.5/1000") across. Coronas are mostly created by diffraction around the rims of small particles. It hardly matters whether the particles are water drops, pollen, stratospheric dust or in this case dust raised by local high winds."
---
2007 Noctilucent Photo Gallery
[Listen!] [Night-sky Cameras]