The space shuttle is about to dock to the ISS. Would you like a call when the pair fly over your backyard? Sign up for SpaceWeather PHONE.

DOCKED: Space shuttle Atlantis arrived at the International Space Station today, and now the two spacecraft are docked together. Amateur astronomers are encouraged to turn their telescopes to the pair when they pass overhead. Considerable detail can be seen, as shown in this movie of the ISS alone on June 3rd recorded by Ralf Vandebergh using a 10-inch telescope in his backyard in the Netherlands. Stay tuned for more; two spaceships are better than one!

ACTIVE SUNSPOT: Decaying sunspot 960 continues to erupt. The flares aren't big enough to threaten astronauts in Earth orbit, but the activity is lovely to behold, as shown in this June 9th photo from Gianluca Valentini of Rimini, Italy: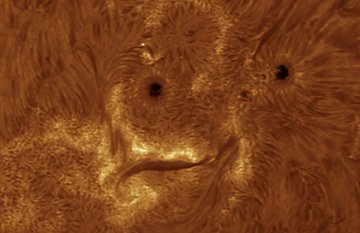 Sunspot 960, the view through a Coronado solar telescope
There is something curious about this double sunspot. Sunspots are giant magnets, and like all magnets they have a north magnetic pole and a south magnetic pole. Looking at sunspot 960, we would expect one dark core to be north, and the other south. The two cores, however, are both south. This SOHO magnetogram shows the strange magnetic topography of the region. Sunspot 960 does indeed have a north pole, but it is spread over a wide area and does not resemble a pole at all. Strange!
more images: from Pete Lawrence of Selsey, West Sussex, UK; from P-M Hedén of Vallentuna, Sweden; from Michael Borman of Evansville, Indiana; from Mike Taormina of Palatine, Illinois; from Enrico Perissinotto of Premariacco (Udine) Italy.
AURORAS VS. NLCs: Dr. Francisco Diego was flying from Los Angeles to London on June 9th when he looked out the window and witnessed this colorful display over Hudson Bay: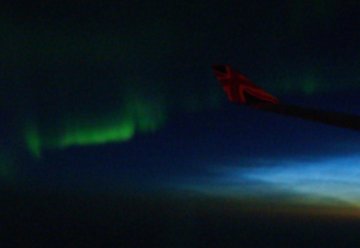 On the left is the aurora borealis, caused by charged particles from the sun hitting Earth's upper atmosphere. The color comes from oxygen molecules glowing green on impact. Auroras are located 80 km to 500 km above the ground.
On the right is a bank of electric-blue noctilucent clouds (NLCs), caused by ... what? No one knows precisely what causes these clouds; a NASA mission named AIM is in orbit to investigate. Noctilucent clouds are located about 80 km above the ground.
"The aurora was very dynamic. I took three pictures a few seconds apart by pressing a small digital camera against the plane's window and holding it there by hand," says Diego. Images: #1, #2, #3.