What's the name of that star? Where's Saturn? Get the answers from mySKY--a fun new astronomy helper from Meade.
FIREBALL! Maybe this weekend's eta Aquarid meteor shower won't be so bad after all. An early eta Aquarid flashed over Colorado on May 4th producing a fireball "of magnitude -10," estimates astronomer Chris Petersen whose all-sky camera in Guffey, CO, captured the meteor in flight: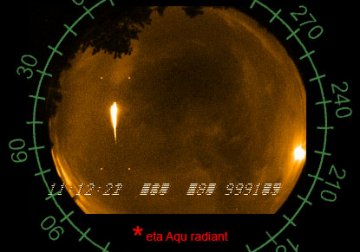 "A video of the event shows a bright trail lingering after the meteor fades," he says.
eta Aquarid meteors are flakes of Halley's Comet hitting Earth's atmosphere. Every year around this time, Earth passes through a stream of Halley-dust, and normally the encounter produces a fair shower of meteors peaking on May 6th. Bright moonlight is supposed to wash out this year's display, but the Colorado fireball was as bright as a quarter moon--easily seen!
If you'd like to take a chance on catching an eta Aquarid fireball of your own, wake up before dawn on Sunday, May 6th, dress warmly, go outside and look east. Sky maps: northern hemisphere, southern hemisphere.
3D MOON: Put on your 3D glasses and behold the Moon: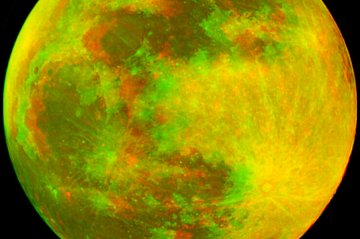 Click to view the full disk: small, medium, large.
This anaglyph was created by Spaceweather reader Hanno Falk of Flensburg, Germany, who combined two photos of the full Moon taken by French photographer Laurent Laveder to create the 3D effect.
How is this possible? Stereo images require viewing the subject from two different points of view, yet both of Laveder's photos were taken from a single location--France. The secret is lunar libration. As shown in this movie, the full Moon rocks back and forth from month to month providing the necessary angles for stereo viewing. Falk simply combined two moons from two different months.
If you don't have 3D glasses, try the cross-eyed version instead. Instructions: Cross your eyes until the two images merge, then relax and allow your focus to drift to infinity. The longer you stare in this fashion, the more vivid the 3D effect becomes.