What's the name of that star? Where's Saturn? Get the answers from mySKY--a fun new astronomy helper from Meade.
HALLEY'S METEORS: Earth is entering a stream of dust from Halley's Comet, and this will produce a meteor shower (the "eta Aquarids") peaking on May 6th. Unfortunately, moonlight will interfere with the display, wiping out all but the brightest meteors. People who wake up before dawn on Sunday and look east might nevertheless catch a few specks of Halley's comet disintegrating in Earth's atmosphere: full story.
3D MOON: Put on your 3D glasses and behold the Moon: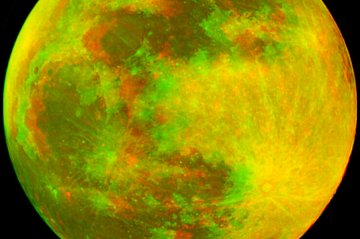 Click to view the full disk: small, medium, large.
This anaglyph was created by Spaceweather reader Hanno Falk of Flensburg, Germany, who combined two photos of the full Moon taken by French photographer Laurent Laveder to create the 3D effect.
How is this possible? Stereo images require viewing the subject from two different points of view, yet both of Laveder's photos were taken from a single location--France. The secret is lunar libration. As shown in this movie, the full Moon rocks back and forth from month to month providing the necessary angles for stereo viewing. Falk simply combined two moons from two different months.
If you don't have 3D glasses, try the cross-eyed version instead. Instructions: Cross your eyes until the two images merge, then relax and allow your focus to drift to infinity. The longer you stare in this fashion, the more vivid the 3D effect becomes.
SOLAR ACTIVITY: "There's a whole lot of shaking going on around sunspot 953," reports Gary Palmer of Los Angeles, California, who took this picture on May 2nd using his Coronado SolarMax90: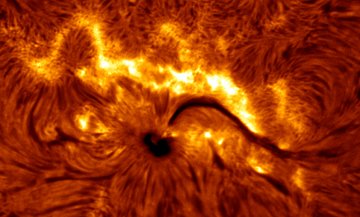 Click here to start the movie: 9MB
Gary stitched together 13 high-resolution snapshots of the sunspot to create a panoramic IMAX-style movie. In it we see magnetic instabilities rippling up and down the sunspot's central filament as well as many point-like flashes of light. The flashes are "Ellerman Bombs"--magnetic explosions about one-millionth as powerful as a true solar flare. They are named after Ferdinand Ellerman who studied the tiny blasts in the early 20th century. Of course, "tiny" is relative. A single Ellerman bomb releases about 1026 ergs of energy--equal to about ten million atomic bombs. Sunspot 953 is crackling with these blasts, which makes it very entertaining to watch.
"Here is a one-hour movie I made using my Personal Solar Telescope," adds Christoph Otawa of Geretsried, Germany. "You can see the filament moving and a small Ellerman Bomb going off."
more images: from James Witt of Phoenix, Arizona; from T. Johnstone and J. Stetson of South Portland, Maine; from Pete Lawrence of Selsey, West Sussex, UK; from Rogerio Marcon of Campinas - Brasil; from Jack Newton of Osoyoos British Columbia; from Robert Arnold on the Isle of Skye, Scotland; from Eva Seidenfaden of Trier, Germany.