| | | |
| --- | --- | --- |
| AURORA ALERTS: Did you miss the Northern Lights? Next time get a wake-up call from Space Weather PHONE | | |
AURORA SURPRISE: "Wow, what a surprise," reports
P-M Hedén of Sweden. "Last night, I was out photographing the moonlit landscape north of Norrtälje when the aurora borealis appeared." There was no geomagnetic storm. A slight elevation in the solar wind speed overnight was sufficient to spark the display.
FARSIDE ACTIVITY CONTINUES: For the second day in a row, NASA's STEREO-A spacecraft has detected a strong solar flare on the far side of the sun. Click here to view the flash of extreme UV radiation, which peaked at 21:55 UT on Sept. 1st. The blast also hurled a coronal mass ejection (CME) over the sun's southwestern limb:

See the cloud expand: 0.6 MB gif animation
The cloud is heading in the general direction of Saturn and poses no threat to Earth. Like the similar flare reported yesterday, today's event was centered on old sunspot group 1100. Solar rotation will turn this active region back toward Earth for possible geoeffective action in about 7 to 9 days. Stay tuned!
MORNING GLORY: The skies over Denver were partly cloudy on Monday morning, Aug. 30th, when Nick Bradley's plane began its descent into Denver International Airport. "On our way down, we passed passed through a cloud and saw something wonderful," says Bradley. He snapped this picture from the window seat: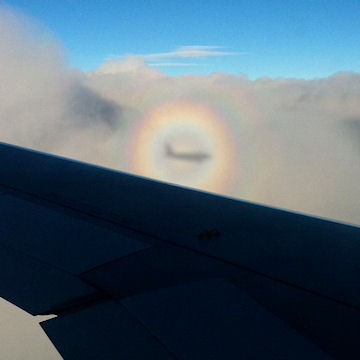 "The low sunrise cast a shadow of the plane on the cloud, and it was surrounded by a very bright glory," says Bradley.
Glories are rainbow-colored rings of light that appear when sunlight is back-scattered by water droplets in clouds. Glories are always directly opposite the sun, and thus usually appear below the observer; if the sun is up, the glory must be down. In this case, however, "the sun was so low, the glory was easily seen above the wing instead of far below," notes Bradley.
Morning glories: a good reason to pick the window seat!
---
August 2010 Northern Lights Gallery
[previous Augusts: 2009, 2008, 2007, 2006, 2005, 2004, 2003]