| | | |
| --- | --- | --- |
| iPHONE VS ANDROID! Actually, it doesn't matter which phone you carry. Our cool, new app turns both smartphones into field-tested satellite trackers. Learn more. | | |
AMAZING IMAGE OF JUPITER: For four hours on August 30th, the atmosphere over Exmouth, Western Australia, settled into a state of rare, crystal-clear transparency -- and it did so directly above the telescope of world-famous astrophotographer Anthony Wesley. The result was a picture of Jupiter that some onlookers are calling the finest-ever by an amateur astronomer. "On a scale of 1 to 10, the seeing was a 12," says Wesley. "Now I know what it must be like to see the giant planet from space."
FARSIDE FLARE: The sun is not so quiet after all. On Aug. 31 at 2055 UT, NASA's STEREO-A spacecraft observed a strong solar flare on the far side of the sun. The flash of electromagnetic radiation briefly saturated several pixels in the spacecraft's extreme UV camera: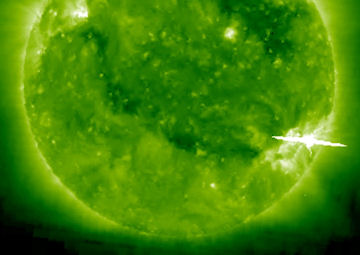 Click on the image to launch a 0.7 MB gif animation
Earth-orbiting satellites did not detect this flare at all. The entire body of the sun shielded us from the radiation. Only STEREO-A, hovering over the farside of the sun, was able to observe the event.
The source of the blast appears to be old sunspot 1100. Solar rotation will turn this active region back toward Earth for possible geoeffective action in about 8 days. Stay tuned.
MORNING GLORY: The skies over Denver were partly cloudy on Monday morning, Aug. 30th, when Nick Bradley's plane began its descent into Denver International Airport. "On our way down, we passed passed through a cloud and saw something wonderful," says Bradley. He snapped this picture from the window seat: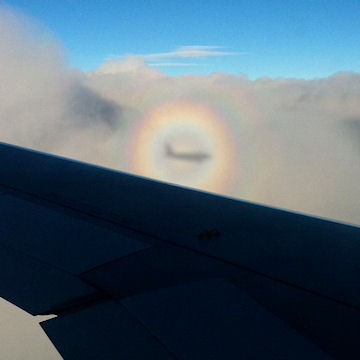 "The low sunrise cast a shadow of the plane on the cloud, and it was surrounded by a very bright glory," says Bradley.
Glories are rainbow-colored rings of light that appear when sunlight is back-scattered by water droplets in clouds. Glories are always directly opposite the sun, and thus usually appear below the observer; if the sun is up, the glory must be down. In this case, however, "the sun was so low, the glory was easily seen above the wing instead of far below," notes Bradley.
Morning glories: a good reason to pick the window seat!
---
August 2010 Northern Lights Gallery
[previous Augusts: 2009, 2008, 2007, 2006, 2005, 2004, 2003]