| | | |
| --- | --- | --- |
| Come to Tromsø and share Marianne's passion for rural photography: Chasethelighttours.co.uk invites you to experience "Heaven on Earth" with an aurora, fjord, fishing, whale watching, photography or sightseeing tour. | | |
QUIET SUN: Solar activity has returned to low levels. Indeed, with no sunspots actively flaring, the sun's X-ray output is flatlining. NOAA forecasters estimate a 10% chance of M-class solar flares and a scant 1% chance of X-flares on July 1st. Solar flare alerts: text or voice.
TWO FULL MOONS IN JULY: There's a full Moon tonight, but if you miss it, don't worry. There's another one coming. July 2015 has two full Moons. The first occurs on the night of July 1-2, followed by a second on July 31. Yuri Beletsky sends this picture of full Moon #1 shining down on the 6.5-m Magellan telescope in Chile: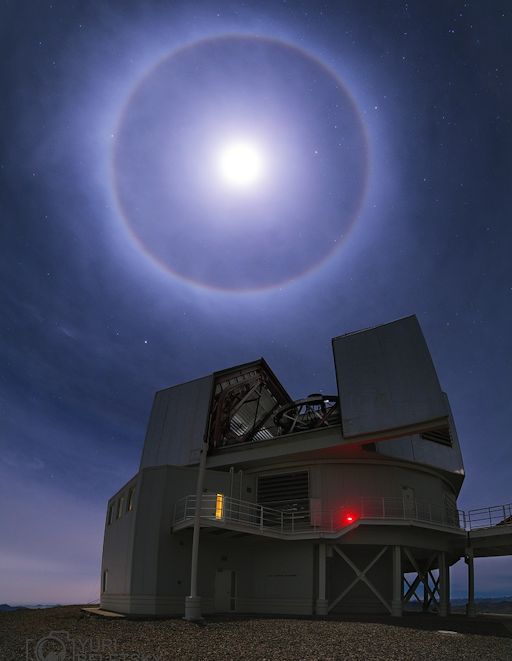 "The view was quite spectacular and we witnessed an amazing halo around the Moon," says Beletsky.
The luminous ring is caused by ice crystals in high clouds, which catch rays of moonlight and bend them as shown in a 22-degree halo. Bright full Moons are great at making these halos, so they are twice as likely to appear this month.
According to modern folklore the second full Moon in a calendar month is a "Blue Moon." Don't expect the Moon to actually turn blue, though. Squeezing a second full Moon into a calendar month does nothing to chnge its actual color.
Nevertheless, it can happen: Back in 1883, for example, people saw blue Moons almost every night after the Indonesian volcano Krakatoa exploded with the force of a 100-megaton nuclear bomb. Volcanic exhaust rose to the very top of Earth's atmosphere, and the Moon … it turned blue! Krakatoa's ash was the reason. Some of the plumes were filled with particles 1 micron wide, about the same as the wavelength of red light. Particles of this special size strongly scatter red light, while allowing blue light to pass through. Krakatoa's clouds thus acted like a blue filter. People also saw blue-colored Moons in 1983 after the eruption of the El Chichon volcano in Mexico. And there are reports of blue Moons caused by Mt. St. Helens in 1980 and Mount Pinatubo in 1991.
Forest fires can do the same trick. A famous example is the giant muskeg fire of Sept. 1953 in Alberta, Canada. Clouds of smoke containing micron-sized oil droplets produced lavender suns and blue Moons all the way from North America to England.
Realtime Space Weather Photo Gallery
BEAUTIFUL--BUT NO 'CHRISTMAS STAR': When the sun goes down tonight, step outside and look west. Venus and Jupiter are having a beautiful close encounter in the sunset sky. Here is photographer Marek Nikodem with a friend enjoying the view from Bydgoszcz, Poland: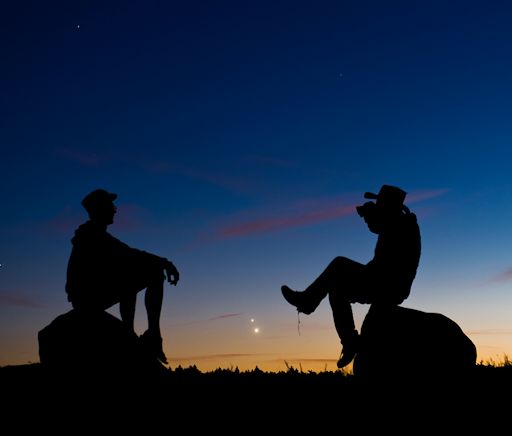 "It was an amazing evening," says Nikodem, who caught the planets on June 30th at closest approach--about 0.3 degrees apart.
As July begins Venus and Jupiter are separating, but slowly, so they will remain a beautiful pair for some nights to come. Browse the photo gallery for more sightings:
Realtime Space Weather Photo Gallery
Extra: Some media reports have compared the June 30, 2015, conjunction to the 2 B.C. conjunction of the same planets often identified as the "Christmas Star" reported in the book of Matthew. In fact, there is no comparison. The conjunction of 2 B.C. was almost 200 times tighter than last night's meeting. In "The Star of Bethlehem: An Astronomical and Historical Perspective," Susan S. Carroll writes:
On June 17, 2 BC, Venus and Jupiter joined .... in the constellation Leo. The two planets were at best 6" arcseconds apart; some calculations indicate that they actually overlapped each other. This conjunction occurred during the evening and would have appeared as one very bright star. Even if they were 6" arcseconds apart, it would have required the sharpest of eyes to split the two, because of their brightness.
By the numbers: The June 30, 2015, conjunction was 0.3 degrees (1080 arcseconds) wide. The 2 B.C. conjunction was no more than 0.002 degrees (6 arcseconds) wide. Last night was beautiful, but it was no Christmas Star!
SPACE WEATHER MUTATES MICROBES: Regular readers know that Spaceweather.com and the students of Earth to Sky Calculus have been launching microbes to the edge of space, more than half a dozen times since April. Carried aloft by helium balloons, halobacteria are now frequent fliers to the stratosphere. An early finding of this ongoing experiment is that the microbes are mutated during their trip, probably by exposure to galactic cosmic rays. Would they be mutated even more by a solar storm? That's what the students wanted to find out, so on June 22nd they launched a new batch of microbes during the strongest solar storm of 2015. Here is the payload 108,213 feet above Earth's surface: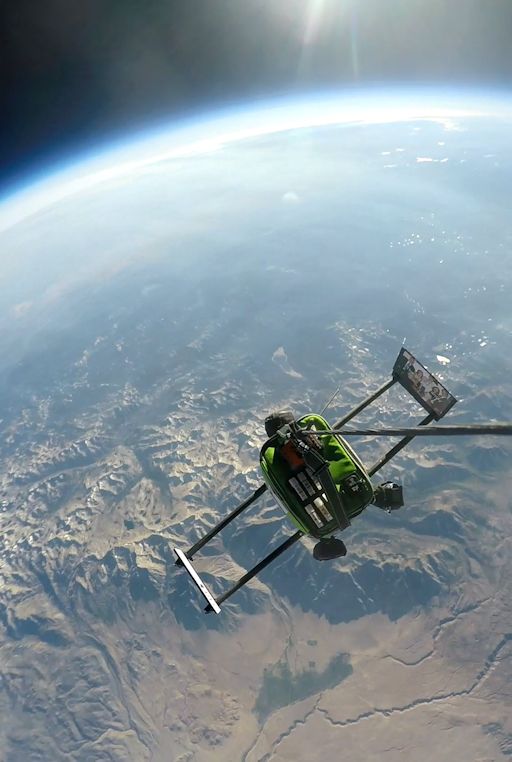 At the time of the flight, a severe G4-class geomagnetic storm was underway. After nightfall, people would see auroras as far south as California and Arizona. In addition, a maelstrom of solar protons were bombarding Earth's magnetic field, producing a moderately-strong S2-class radiation storm.
Will any of this affect the mutation rate of the microbes? Microbiologists Shil and Priya DasSarma are culturing the halobacteria now in their NASA-funded laboratory at the University of Maryland. When their results are available and confirmed, we will share them.
Astrobiologists have a special interest in halobacteria. This extremophile has the ability to shield itself from harmful radiation and to repair damaged DNA. Researchers have speculated that it might be able to survive on the planet Mars. The temperature, air pressure, and radiation environment in Earth's stratosphere is similar to Mars, so a balloon flight is a good way to test halobacteria's "Red Planet readiness."
HEY, THANKS! All of the high-altitude astrobiology research featured on Spaceweather.com is crowd-funded. This particular flight was sponsored by Stuart Bayne, a.k.a. The Fire P.I., an expert investigator of fires and explosions. Here is his logo at the apex of the flight: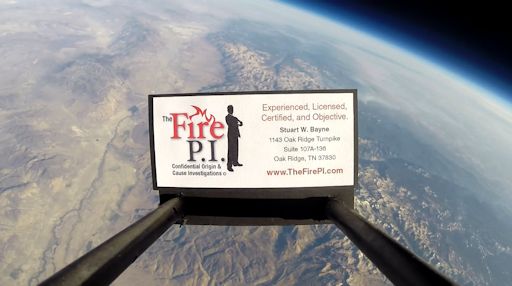 His generous donation of $500 paid for the helium, the balloon, and other supplies required to get this mission off the ground. In return, he will receive a full-length HD video of the flight. Thanks, Stuart!
Readers, would you like to sponsor a research flight and see your favorite photo or business logo at the edge of space? If so, please contact Dr. Tony Phillips to make arrangements.
---
---
---
---
Every night, a network of NASA all-sky cameras scans the skies above the United States for meteoritic fireballs. Automated software maintained by NASA's Meteoroid Environment Office calculates their orbits, velocity, penetration depth in Earth's atmosphere and many other characteristics. Daily results are presented here on Spaceweather.com.
On Jul. 2, 2015, the network reported 119 fireballs.
(116 sporadics, 1 Microscorpiid, 1 , 1 Daytime beta Taurid)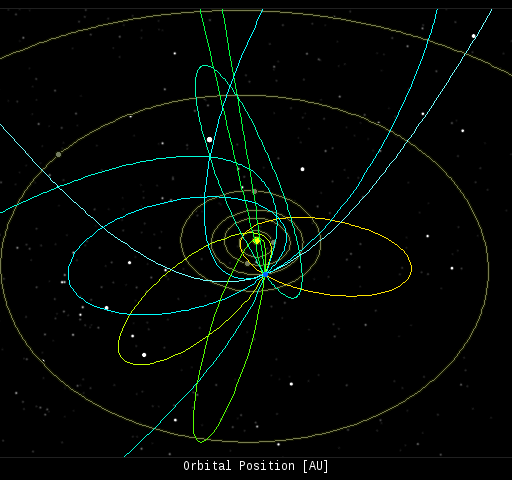 In this diagram of the inner solar system, all of the fireball orbits intersect at a single point--Earth. The orbits are color-coded by velocity, from slow (red) to fast (blue). [Larger image] [movies]
Potentially Hazardous Asteroids (
PHAs
) are space rocks larger than approximately 100m that can come closer to Earth than 0.05 AU. None of the known PHAs is on a collision course with our planet, although astronomers are finding
new ones
all the time.
On July 2, 2015 there were
1594
potentially hazardous asteroids.
Notes: LD means "Lunar Distance." 1 LD = 384,401 km, the distance between Earth and the Moon. 1 LD also equals 0.00256 AU. MAG is the visual magnitude of the asteroid on the date of closest approach.
| | |
| --- | --- |
| | The official U.S. government space weather bureau |
| | |
| --- | --- |
| | The first place to look for information about sundogs, pillars, rainbows and related phenomena. |
| | |
| --- | --- |
| | Researchers call it a "Hubble for the sun." SDO is the most advanced solar observatory ever. |
| | |
| --- | --- |
| | 3D views of the sun from NASA's Solar and Terrestrial Relations Observatory |
| | |
| --- | --- |
| | Realtime and archival images of the Sun from SOHO. |
| | |
| --- | --- |
| | from the NOAA Space Environment Center |
| | |
| --- | --- |
| | the underlying science of space weather |
| | |
| --- | --- |
| | Web-based high school science course with free enrollment |