Nebraska Fireball: Dec. 16, 2009
Readers, if you witnessed or photographed this event, please submit a report.
Summary: The nature of this event is uncertain--indeed, it might be more than one event. Around 9 pm on Dec. 16th, sky watchers in southeast Nebraska saw a brilliant fireball streak across the sky. It was so bright that observers with overcast skies saw it shining through clouds. Telephones in news stations and police departments rang with reports of bright lights, loud sounds, and ground shaking. Minutes earlier, around 8:53 pm CST, the USGS says there was a magnitude 3.5 earthquake in southeastern Nebraska: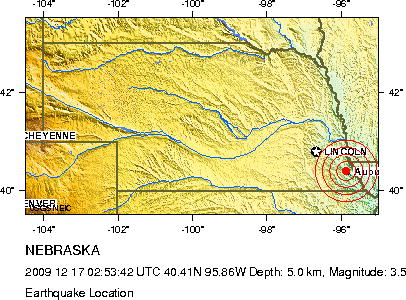 Earthquakes in Nebraska are rare, so what are the odds of one happening within minutes of a meteoritic fireball? This might be a cosmic coincidence. Or there could be some yet-to-be-explained linkage between the events. Readers with photos or eyewitness reports are invited to submit them here.
Eyewitness Accounts:
Location: 5 miles NW of Pawnee City, Nebraska
Comments: Nebraska State Trooper Jerry Chab: "At 2100 CST tonight a very bright meteor lit up the entire completely overcast sky like lightning in southeast Nebraska. It flashed for approximately 1.5-2 seconds and was followed by sonic booms and ground shaking which prompted many calls by the public to law enforcement in a three County wide area."
"I was approximately 5 miles NW of Pawnee City, Ne. when I observed the flashes," Chab continues. "It was a very bright one, the sky dimmed a bit and it was followed by another bright flash. Between the two bright flashes the sky never completely dimmed. Again, this all occurred within 1.5-2 seconds. I talked to a truck driver who was approx. 8 miles straight East of me who saw the same thing. A local Deputy was about 16 miles ENE of me and also saw it. The first 911 call came at 2201. The calls were about explosions AND earthquakes. One individual call mentioned 'two' explosions. I attributed the calls to sonic booms."
"If the Earthquake is confirmed, as it appears to be, I think we have the most cosmic of coincidences: A large fireball around the same time of an Earthquake. I am simply amazed!!"
Location: Nebraska City, Nebraska (near Auburn, Nebraska)
Comments: Laurie Riley: "It sounded like the loud grain haulers that go by but about 5 times louder. The whole house shook. The kids came running down stairs – they were scared. The only thing I noticed last night is my vehicle was moved – since it's been snowing and ice out, I park backwards and park with two tires on my sidewalk for traction and after the quake, it shook my vehicle so the back tire slide off the sidewalk and the front tire was almost off. It lasted about 5 seconds or so. Very loud rumble."
Location: Warren County, Missouri
Comments: Doug Kniffen: "My daughter and I saw the fireball from east central Missouri (Warren County). 9:05pm on my wristwatch (set to WWV). The fireball appeared about magnitude -6, with distinctly green streamers outlining the tail. Certainly an impressive sight, sure wish I had a picture. Very low apparent altitude, would have missed it if the trees hadn't dropped their leaves. Told my daughter that there was a good chance of fresh meterorites in Nebraska. Nice to know that my estimate of a fall zone was close."
Location: Hastings, Nebraska
Comments: Rich Cartier: "Sitting in a well-lit living room watching TV, I noticed out the east-facing living room window a bright fireball heading from northwest to southeast. It lasted about 2 seconds with a bright flash at the end. It was remarkable, since it was overcast, and I was in a bright room, yet it still caught my eye."
Location: between Wichita and Andover, Kansas
Comments: Alan Howarter: "At about 9:06 pm on Wednesday, December 16, 2009 I was driving North and witnessed what appeared to be a very bright meteor toward the northeast that lit up for a couple of seconds."
Location: Oklahoma City, Oklahoma
Comments: Rick Foster: "I saw a huge green fireball at 9:03 pm from Oklahoma City almost due north. Very low on horizon. Looked like it was moving NW to SE. I was in my truck driving north on I-35. It was very large, green with orange sparks and very short tail."
©2009 Spaceweather.com. All rights reserved.