Bob,
Saskatoon, Saskatchewan, Canada
Jul. 12, 2008
#1, #2
I was called on the phone and emailed from Spaceweatherphone.com stating there was a mild geomagnetic storm going on in my area. Thanks to this alert I got some beautiful images of Aurora's just outside of Saskatoon, Sk. Even got some images complete with meteors.
Photo details: Canon 40D, 30 second exposure and an ISO of 1600.

Dale Nosko,
Edmonton, Alberta, Canada
Jul. 11, 2008
#1, more
Solar minimum aside, wow! A short-lived but nice display.
Photo details: Canon 400D, 30" exposure, f5, 200 ISO.

J. Dana Hrubes,
The geographic south pole, 90 S Latitude
Jul. 5, 2008
#1, #2, more
Imagine walking a mile to work every day in pitch-black dark with air temperatures routinely dipping below -90 F. It might be worth it if you could look up and see this.
These pictures come from Earth's south pole where "we had a nice display of aurora australis on July 5th," says J. Dana Hrubes, science leader of the Amundsen-Scott Station. Just before he took the picture, the interplanetary magnetic field (IMF) near Earth tipped south, opening a crack in our planet's magnetosphere. Solar wind poured in and fueled the auroras. "That's Jupiter shining just above the silhouette of the South Pole Telescope," he points out.
Every day, Hrubes walks a mile from the main station to the telescope. "This gives me plenty of time to gaze at the sky. The temperature was -84 F when I took today's pictures and I have taken photos down to a temperature of -110.7 F, which is my personal all time low in early August, 2005. You have to take photos as quickly as possible; you never know what is going to freeze first, your camera or your fingers." (Note to cold-weather photographers: Hrubes uses a Canon 400D.)
"We are now getting into the coldest months, July and August, where we will see temperatures below -100 F," he continues. "These are actual static temperatures, not wind chills. Furthermore, the elevation of the site is nearly 10,000 feet and we experience physiological altitudes between 10,500 ft and 12,200 ft during winter." Many people would be put off by such conditions, but not Hrubes. "In four years at the Pole, I have racked up more than 3,000 miles of walking. I am lucky to have a great walk like this to my job 7 days a week."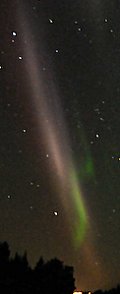 Valter Binotto,
Baie-Comeau Quebec Canada
Jul. 11, 2008
#1, more
During my holidays in Canada last week I finally saw an unexpected aurora (for the first time!!)
Photo details: Nikon D300 ob. Nikon 16/85 at 16mm f3.5 esp 30 sec. iso 1250