| | | |
| --- | --- | --- |
| Where's Saturn? Is that a UFO--or the ISS? What's the name of that star? Get the answers from mySKY--a fun new astronomy helper from Meade. | | |
DELICATE CONJUNCTION: Circle this date on your calendar: April 8th. On the evening of that Tuesday, the 12% crescent Moon will graze the Pleiades star cluster. The sight of these two delicate heavenly bodies in beautiful conjunction is best enjoyed through binoculars or a small telescope, but the naked eye works, too. Don't miss it: sky map.
JULES VERNE & THE ISS: On Saturday night, March 29th, the unmanned Jules Verne cargo carrier proved to ESA ground controllers that it could navigate on its own around the International Space Station. During the maneuvers, amateur astronomer Christoph Rollwagen photographed the pair flying over his rooftop in Potsdam-Bornstedt, Germany: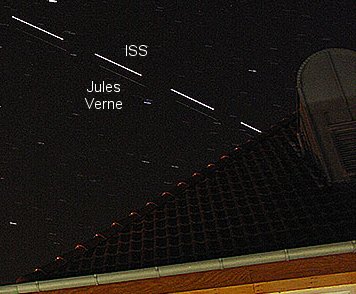 In Rollwagen's movie of the flyby, the spacecraft seem to vanish in mid-flight; that happens when they enter the dark shadow of Earth. "The cargo carrier flew in tandem almost 8 seconds in front of the station--a real distance of about 60 km," he says.
The distance will shrink further tonight, March 31st, when Jules Verne approaches the ISS again, stopping only 11 meters from the docking port and then backing away. This is practice for an actual, automated docking on April 3rd. European sky watchers can see these events with their own eyes as the two spacecraft fly over their continent in the evenings ahead.
more images: from Milan Antos of Jablonec nad Nisou, the Czech Republic; from Robert Gillette of Ossipee, New Hampshire; from Alexandru Sebastian Grigore of Targoviste, Romania; from Jirka Bulant of Orlov, the Czech Republic; from Tom A. Warner of Rapid City, South Dakota; from Stuart Horner of Terrace, B.C. Canada;
SUN CATS & DOGS: Last week over Maghera, Northern Ireland, a bank of icy clouds drifted across the sun and formed a luminous halo. "My cat jumped onto the garden fence," says onlooker Martin McKenna, "so I used 'Gizmo' to block the sun's glare and take this picture."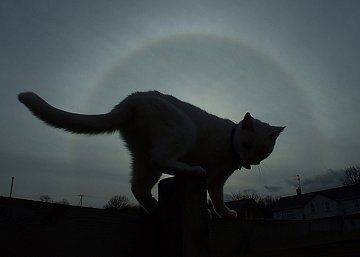 McKenna looked around for the sundogs which so often accompany circular halos--and, lo, "there was my own dog 'Benson.' The halo was also reflected from a puddle at my feet. All in all, a very good show!"
more images: from Agnes Kiricsi of Vecsés, Hungary; from Arnold Gentz of Sapanta, Romania; from Kamil Poplata in the Zabor swamps near Wroclaw, Poland; from Jun Lao of Mason, Ohio;
---
March 2008 Aurora Gallery
[Aurora Alerts] [Night-sky Cameras]