VOLCANO WATCH: Seismic activity continues at Alaska's Mount Redoubt volcano and geologists say an eruption could occur at any moment. The last time an Alaskan volcano blew its top (Kasatochi in August 2008), about a million tons of ash and sulfur dioxide flooded the stratosphere, causing fantastic sunsets around the northern hemisphere and possibly reducing Earth's temperature by a fraction of a degree. More SO2 is in the offing. Stay tuned for updates.
SUNSET SKY SHOW: For the past two nights, sky watchers around the world enjoyed a brilliant sunset conjunction between Venus and the crescent Moon. "At the Philippus Lansbergen public observatory, we had more than 60 visitors admiring the display," reports Jan Koeman of Middelburg, The Netherlands: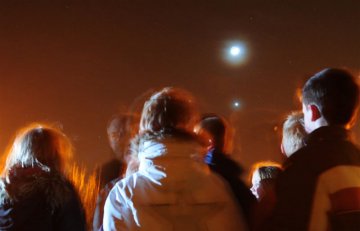 Next month, it's going to happen again--only better. During last night's conjunction, the Moon and Venus were separated by about 3o. On Friday, Feb. 27th, the Moon will pass less than 1o from Venus. For reasons not fully understood by astronomers or psychologists, a 1o pair is much prettier than a 3o pair, so the next conjunction is going to be special.
Whet your appetite with a few more photos: from Daniel Chang of Hong Kong; from Steuckers Dominique of Holsbeek, Belgium; from Quentin D. of Le Havre, Normandy, France; from Sangku Kim of Pyeongtaek, South Korea; from Tyler Burg of Council Bluffs, Iowa; from Mahdi Zamani of Tehran, Iran; from Mark Seibold of Portland, Oregon; from Wienie van der Oord iof the Negev desert, Israel; from Minghelli of L'Escarène, Alpes Maritimes, France; from Patrick Jablonski of Normandie, France; from Mike O'Leary of El Cajon, California; from Eleazar Sánchez of Shanghai, China; from Hal Schade of Rio Dulce, Guatemala;
SKI HALOS: What do you do when you see a skier flying through a sundog? Simple. Execute a hockey stop, take off your gloves, extract a digital camera from the folds of your snow suit, and--click!--photograph the split-second encounter: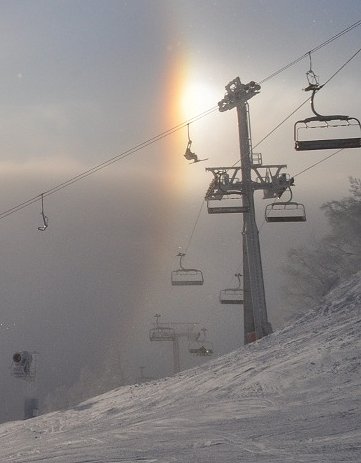 Skiing photographer Ivar Matheson did everything right on Jan. 27th when he took the picture above. "I was at the Åre ski resort in Sweden. It was a sunny day and the air was filled with ice crystals. This gave rise to an impressive display of luminous sun halos, sundogs, sub-sundogs, subsuns, upper and lower sun pillars and tangent arcs." The complete collection is a must-see.
Going skiing? Be alert for "ski halos"--and practice your hockey stop!
---
Comet Lulin Photo Gallery
[Comet Hunter telescope] [sky map] [ephemeris]
---