| | | |
| --- | --- | --- |
| Special Offer: SAVE 600nok per person. Book a combination aurora borealis chase and scenic day tour during the months of September, October or November 2019 for the special price of 1800 kr. Check Marianne's webpage for details! | | |
GEOMAGNETIC STORM WARNING: A solar wind stream is heading for Earth (see story below) and it could arrive as early as Aug. 31st. NOAA forecasters say there is a 40% chance of G2-class geomagnetic storms, an upgrade from earlier forecasts of a minor G1 event. Auroras could descend to northern-tier US states such as Minnesota, Michigan, Montana, and Washington during Labor Day weekend. Stay tuned. Aurora alerts: SMS Text.
A GIGANTIC JET OVER CHINA: You never know what you might see in the wake of a big storm. On Aug. 25th, Chinese astrophotographer Chao Shen of Shaoxing City went outside to photograph the Milky Way. A typhoon named "White Deer" had passed through the day before, and the storm clouds were parting. "I saw the stars--but that's not all," says Shen. "A Gigantic Jet leaped up right before my eyes!"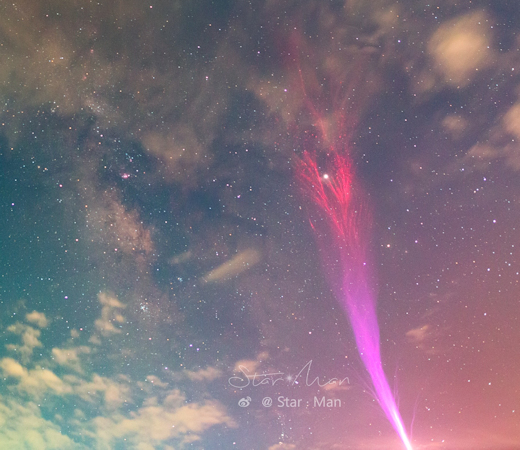 Think of them as sprites on steroids: Gigantic Jets are lightning-like discharges that spring from the tops of thunderstorms, reaching all the way to the edge of space. They're enormous and powerful.
"Shen definitely caught a Gigantic Jet," confirms Oscar van der Velde of the Lightning Research Group at the Universitat Politècnica de Catalunya. "It looks like it may have reached as high as 90 km above the ground."

"Gigantic Jets are much more rare than sprites," says van der Velde. "While sprites were discovered in 1989 and have since been photographed by the thousands, it was not until 2001-2002 that Gigantic Jets were first recorded from Puerto Rico and Taiwan." Only dozens of Gigantic Jets have ever been photographed.
Shen says that "the Jet came from a storm about 100 km southwest of me. It was so huge, I was able to see it clearly despite the distance."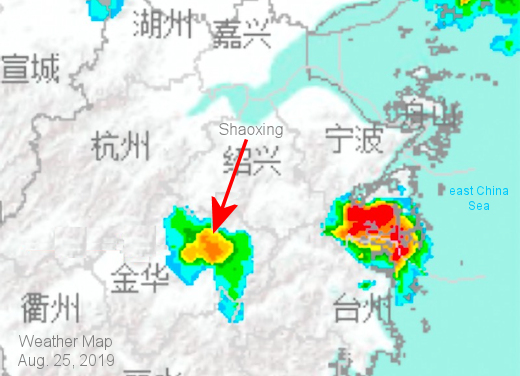 Above: The arrow in this weather map points from Chao Shen's camera toward the jet-producing storm.
Observers of sprites may be wondering if Shen really saw this jet. The answer is "yes." Unlike sprites, which flicker so rapidly that they are difficult to see with the unaided eye. Gigantic Jets can lasts for hundreds of milliseconds, long enough for human eyes to register their purple glow.
Gigantic jets are part of a growing menagerie of strange forms that appear above intense thunderstorms, including sprites, elves, trolls, and blue jets. Some researchers believe that cosmic rays help trigger these "transient luminous events" by ionizing the air in and around thunderheads. If so, now is a good time to look for Gigantic Jets, because cosmic rays are nearing a Space Age high. Thank you, Solar Minimum!

Realtime Sprite Photo Gallery
Free: Spaceweather.com Newsletter 
A CRACK IN EARTH'S MAGNETIC FIELD: There was no geomagnetic storm on Aug. 26th. Auroras appeared anyway. Unexpected by forecasters, a crack opened in Earth's magnetic field, allowing solar wind into our planet's magnetosphere. Alan Dyer photographed the resulting glow from southern Saskatchewan in the Grasslands National Park:

"It was quite photogenic," says Dyer. "To the naked eye, the display was diffuse and pale, but my camera picked up the colors with no trouble." Auroras like these are called "deep sky auroras" because they require some exposure with a camera for full effect.
Photographers, would you like an instant text message when cracks open in Earth's magnetic field? Subscribe to the Pro Plan of Spaceweather Alerts. Your phone will tell you when deep sky auroras are waiting outside.
Realtime Aurora Photo Gallery
Free: Spaceweather.com Newsletter 
THE ANTARES PENDANT: Are you looking for a far-out gift? Consider the Antares Pendant. On Aug. 19, 2019, the students of Earth to Sky Calculus launched a cosmic ray balloon to the edge of space, 104,002 ft high. This ruby-red crystal necklace went along for the ride: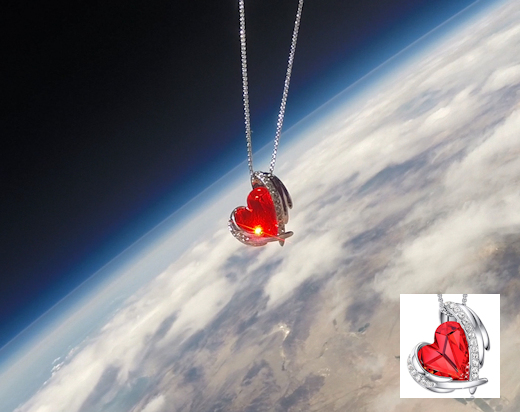 You can have it for $149.95. The students are selling these white gold-plated pendants to support their cosmic ray ballooning program. The glittering Swarovski crystal has a deep ruby hue inspired by the red-supergiant star Antares in Scorpio. Each one comes with greeting card showing the pendant in flight and telling the story of its journey to the edge of space and back again.
Far Out Gifts: Earth to Sky Store
All sales support hands-on STEM education

---
Realtime Space Weather Photo Gallery
Free: Spaceweather.com Newsletter 

Every night, a network of
NASA all-sky cameras
scans the skies above the United States for meteoritic fireballs. Automated software maintained by NASA's Meteoroid Environment Office calculates their orbits, velocity, penetration depth in Earth's atmosphere and many other characteristics. Daily results are presented here on Spaceweather.com.
On Aug. 30, 2019, the network reported 75 fireballs.
(72 sporadics, 3 alpha Aurigids)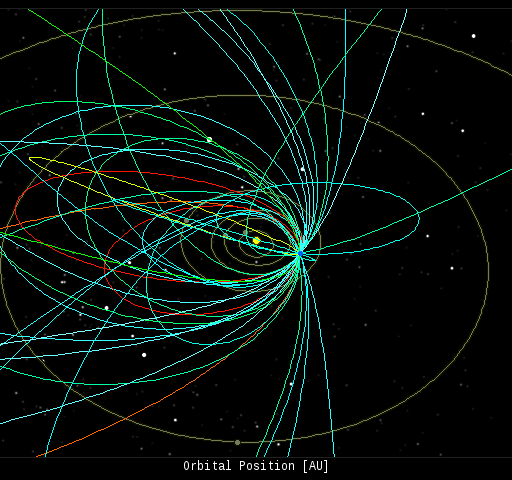 In this diagram of the inner solar system, all of the fireball orbits intersect at a single point--Earth. The orbits are color-coded by velocity, from slow (red) to fast (blue). [Larger image] [movies]
Potentially Hazardous Asteroids (
PHAs
) are space rocks larger than approximately 100m that can come closer to Earth than 0.05 AU. None of the known PHAs is on a collision course with our planet, although astronomers are finding
new ones
all the time.
On August 30, 2019 there were
1983
potentially hazardous asteroids.

Recent & Upcoming Earth-asteroid encounters:
Asteroid

Date(UT)

Miss Distance

Velocity (km/s)

Diameter (m)

2019 QQ

2019-Aug-25

10 LD

12.2

32

2016 PD1

2019-Aug-26

11.3 LD

5.9

65

2019 QQ3

2019-Aug-26

0.2 LD

19.7

5

2019 QR

2019-Aug-27

11.8 LD

7.2

20

2002 JR100

2019-Aug-27

19.4 LD

8.4

49

2019 QS

2019-Aug-28

5.5 LD

22.5

39

2019 OU1

2019-Aug-28

2.7 LD

13

102

2019 QV4

2019-Aug-29

10 LD

8.6

47

2019 QR3

2019-Aug-30

5.7 LD

11.4

13

2019 QU4

2019-Aug-30

4.6 LD

8.4

39

2019 QP1

2019-Aug-31

10.5 LD

8.9

18

2019 QD4

2019-Aug-31

5.9 LD

22.5

23

2019 QY5

2019-Aug-31

10.8 LD

10.1

24

2019 QA5

2019-Sep-02

5.7 LD

13.5

21

2019 QX1

2019-Sep-02

18.9 LD

16.8

30

2019 OF2

2019-Sep-03

18.3 LD

10.7

53

2018 DE1

2019-Sep-03

12.7 LD

6.6

28

2019 QX3

2019-Sep-04

11.2 LD

17.8

32

2019 QE1

2019-Sep-05

13.2 LD

6.6

34

2019 GT3

2019-Sep-06

19.5 LD

13.6

218

2019 QZ

2019-Sep-08

15.7 LD

4.3

21

2019 QZ3

2019-Sep-09

9.7 LD

7.5

38

2019 QY4

2019-Sep-10

2.5 LD

7.8

9

2010 RM82

2019-Sep-13

18.2 LD

14.6

23

2013 CV83

2019-Sep-13

16.1 LD

13.1

62

504800

2019-Sep-14

13.9 LD

14.4

155

467317

2019-Sep-14

13.9 LD

6.4

389

2019 JF1

2019-Sep-16

11.2 LD

4.3

62

2018 FU1

2019-Sep-16

18.4 LD

4.7

16

2017 SL16

2019-Sep-21

7.9 LD

6.5

25

2017 SM21

2019-Sep-21

11.5 LD

9.6

20

2019 QZ1

2019-Sep-22

12.5 LD

8.2

77

523934

2019-Sep-24

10.9 LD

22.3

257

2019 QY3

2019-Sep-26

13.9 LD

8.4

39

2017 KP27

2019-Sep-26

6.2 LD

4.8

25

2006 QV89

2019-Sep-27

18.1 LD

4.1

31

2018 FK5

2019-Oct-01

13.3 LD

10.5

8

2018 LG4

2019-Oct-02

13.8 LD

8.1

12

2017 TJ4

2019-Oct-05

13.5 LD

8.9

32

162082

2019-Oct-25

16.2 LD

11.2

589

2017 TG5

2019-Oct-25

14.4 LD

11.9

34