PARTIAL ECLIPSE, TOTAL FUN: This Friday, August 1st, millions of people in China will witness a well-publicized total eclipse of the sun. Less widely reported, however, is the partial eclipse, which billions of people across three continents can observe and enjoy. Fun tips and animated eclipse maps are available from Science@NASA: click here.
OVER THE HORIZON: NASA's STEREO-B spacecraft has beamed back a movie of a spectacular eruption on the sun's eastern limb. Click on the image to launch a 6 MB mpeg: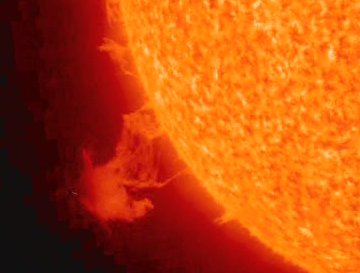 The movie spans a two day period, July 12-14, and shows a blob of gas five times the size of Earth being hurled away from the sun. Earth was not in the "line of fire" so no geomagnetic storms or auroras resulted from the blast.
Astronomers on Earth witnessed only the upper regions of the explosion. From our point of view, the action took place over the sun's horizon. STEREO-B, however, has a different point of view. STEREO-B shares Earth's orbit around the sun (approximately), but lags behind Earth by about 30 degrees. This allows the spacecraft to see "around the bend," revealing solar activity hidden from terrestrial eyes.
Seeing the hidden side of the sun is just one of many benefits of the ongoing STEREO mission; learn more from nasa.gov.
VIRTUAL REALITY MILKY WAY: This is the time of year to find a dark place and behold our very own galaxy, the Milky Way, meandering across the midnight sky. Can't find a dark place? Here's one:
This is no ordinary picture of the Milky Way; it's a doorway. Just knock and you'll be wafted away to a beach in the south of France with a dizzyingly beautiful galaxy arcing overhead. Photographer Laurent Laveder explains: "Two nights ago, I used a fisheye lens to take 16 individual pictures covering the entire sky. I then combined them to produce a Quicktime Virtual Reality view of the Milky Way."
Tip: In the VR environment, look up and spin the Milky Way. You can make your own star trails. Don't go overboard, though; it can be disturbingly realistic.
---
2008 Noctilucent Cloud Gallery
[Strange Clouds] [Sky Cameras]