NEW SOLAR CYCLE PREDICTION: An international panel of experts has issued a new prediction for the solar cycle which takes into account the surprisingly deep solar minimum of 2008-2009. Read today's story from Science@NASA to find out when they think solar maximum will return.
FIRST NLCs of 2009: New data from NASA's AIM spacecraft show that noctilucent clouds (NLCs) are like a great "geophysical light bulb." They turn on every year in late spring, reaching almost full intensity over a period of no more than 5 to 10 days.
News flash: The bulb is beginning to glow. The first NLCs of 2009 were sighted over Russia on May 27th, and an even brighter display appeared last night, May 29th, over Denmark and the British Isles. Martin Mc Kenna sends these snapshots from Maghera, Northern Ireland: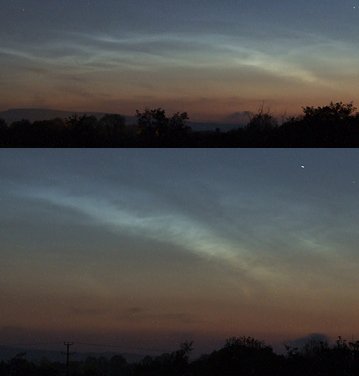 "The glowing clouds were more than 100 degrees wide with white, blue and even subtle yellow and green colours," says Mc Kenna. "It was an excellent display to start the season and a good omen of major events to come in the near future!"
The display was also witnessed by from John C Mcconnell of Maghaberry Northern Ireland (photos); Paul Evans of Larne, Northern Ireland (photos); and Ian Brantingham near Banff, Scotland (photos).
There is a well-known correlation between noctilucent clouds and the solar cycle. NLC activity tends to peak during years of solar minimum, possibly because low solar activity allows the upper atmosphere to cool, promoting the growth of ice crystals that make up the clouds. With a century-class solar minimum underway, the stage is set for a good season of NLC watching.
Typically, the first NLCs of spring are wan and pale, followed by better displays as summer unfolds. Browse the galleries from previous years to see what may be in the offing: 2008, 2007, 2006, 2005, 2004, 2003.
JUPITER'S MOON SHOW: Every six years, Earth spends a number of months passing through the orbital plane of Jupiter's moons. During the passage, amateur astronomers get to see a rare display of "mutual occultations." Jupiter's moons eclipse one another in plain view of backyard telescopes.
On May 25th, Mike Salway of Central Coast, Australia, watched Ganymede eclipse Io. Click on the still-frame to launch a 0.25 MB movie: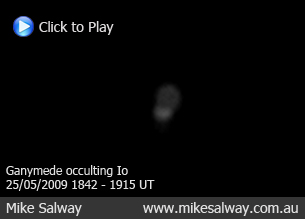 Images like these are unprecedented. Although Jupiter's moons put on the same kind of show in 2002-2003, no one recorded such clear pictures. "Imaging techniques and equipment have improved immensely over the past 6 years," notes Salway. "So this is the first year where amateurs are recording these events and producing detailed, high-resolution images of the phenomena."
If you missed the Ganymede-Io eclipse, don't worry. There are plenty more to come. Mutual occultations of Jupiter's moons will continue from now until nearly the end of the year. As part of the International Year of Astronomy, professional astronomers are organizing a worldwide observing campaign to record as many of these events as possible. Click here for details.
more images: from Efrain Morales Rivera of Aguadilla, Puerto Rico; from Paul Maxson of Surprise, Arizona
---
April 2009 Aurora Gallery
[previous Aprils: 2008, 2007, 2006, 2005, 2004, 2003, 2002]
---