| | | |
| --- | --- | --- |
| Where's Saturn? Is that a UFO--or the ISS? What's the name of that star? Get the answers from mySKY--a fun new astronomy helper from Meade. | | |
EARTH HOUR: What are those twinkling things in the sky? Oh, stars! Last night, millions of people in hundreds cities switched off their lights for one hour to draw attention to the problem of climate change. Skies over urban areas darkened allowing stars overhead a rare appearance. Organizers of Earth Hour declared it "a remarkable global event. Never before have people from so many different backgrounds, cultures and geographies come together to press for urgent action."
Earth Hour photos: from Sorin Hotea of Baia Mare, Maramures, Romania; from Fiona Law of Brisbane, Australia; from A. Hywarren of Ottawa, Ontario; from William McMullen of Ottawa, Ontario; from Salvador Aguirre of Hermosillo, Mexico; from Rosalyn of Highlands Scotland;
JULES VERNE AND THE ISS: Earlier this evening, the unmanned Jules Verne cargo carrier proved to ground controllers that it could navigate on its own around the International Space Station using GPS guidance systems. During the maneuvers, amateur astronomer Christoph Rollwagen photographed the spacecraft flying over his rooftop in Potsdam-Bornstedt, Germany: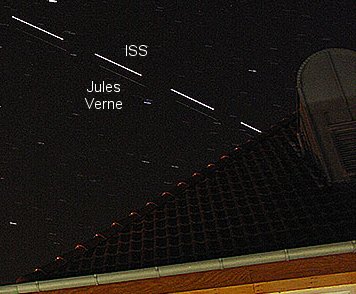 In Rollwagen's movie of the flyby, the spacecraft seem to vanish in mid-flight; that happens when they enter the dark shadow of Earth. "The cargo carrier flew in tandem almost 8 seconds in front of the station--a real distance of about 60 km," he says.
The distance will shrink on March 31st when Jules Verne approaches the ISS again, stopping only 11 meters from the docking port and then backing away. This is practice for an actual, automated docking on April 3rd. European sky watchers can see these events with their own eyes as the two spacecraft fly over their continent in the evenings ahead.
more images: from Jirka Bulant of Orlov, the Czech Republic; from Milan Antos of Jablonec nad Nisou, the Czech Republic; from Tom A. Warner of Rapid City, South Dakota; from Stuart Horner of Terrace, B.C. Canada;
AURORA WATCH: "Last night we went out to see the Northern Lights with a group of friends," says Sylvain Serre of Salluit, Nunavik, Quebec. "They were surprised by the view and very enthusiastic!" He took this picture of the group using his Canon 30D: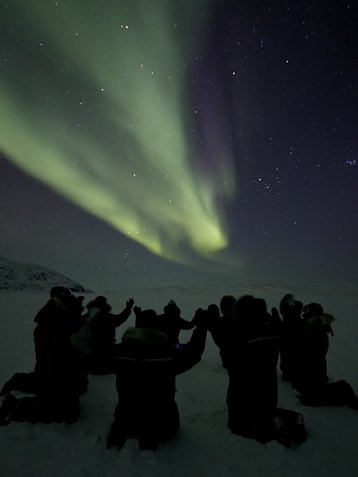 The display was triggered by a high-speed solar wind stream buffeting Earth's magnetic field. The solar wind continues to blow tonight and NOAA forecasters estimate a 25% chance of geomagnetic activity at high latitudes. Northern sky watchers should remain alert for auroras.
Updated: March 2008 Aurora Gallery
[Aurora Alerts] [Night-sky Cameras]
---
weekend sunspot images: from Mike Borman of Evansville, Indiana; a sketch from Les Cowley of England; from Pavol Rapavy of Rimavska Sobota, Slovakia; from John Stetson of Falmouth, Maine; from Cai-Uso Wohler of Bispingen, Germany; from Pete Lawrence of Selsey, West Sussex, UK; from Peter Paice of Belfast, Northern Ireland; from Mark Sibole of Fife Lake Michigan; from Kyle Austin of Detroit, Michigan; from Malcolm Park of London, England; from P-M Hedén of Vallentuna, Sweden; from Ching Yu of Amsterdam, The Netherlands; from Stephen Ames of Hodgenville, KY; from Javier Temprano of Santander, Spain; from Joel Bavais of Anvaing, Belgium; from Paul Haese of Blackwood, South Australia; from Masa Nakamura of Tochigi, Japan; from Matthias Juergens of Gnevsdorf, Germany; from Peter Garbett of Sharnbrook, UK; from Jan Timmermans of Valkenswaard, The Netherlands;