| | | |
| --- | --- | --- |
| Listen to radar echoes from satellites and meteors, live on listener-supported Space Weather Radio. | | |
SUBSIDING STORM: A geomagnetic storm that began late on June 28th when Earth passed through a region of south-pointing magnetism in the solar wind is subsiding. At its peak (Kp=7), the storm sparked Northern Lights in the USA as far south as Kansas. In total, observers in more than a dozen US states have reported green and purple skies over night. Christian Begeman sends this picture from a farm outside Hartford, South Dakota: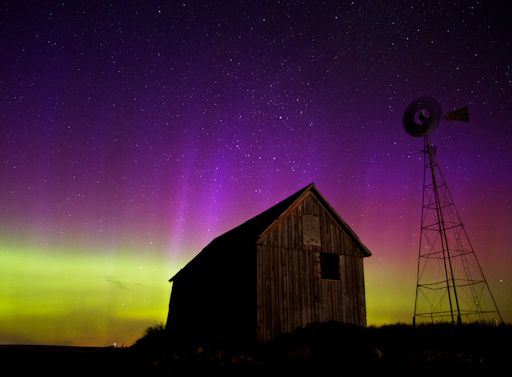 "A clear sky allowed me to the Northern Lights dancing in southeast South Dakota around the midnight hour tonight," says Begeman. "It was quite the show."
The storm also ignited auroras in the southern hemisphere. "There was lots of colour visible to naked eye--very strong," reports Jo Malcomson from South Arm, Tasmania. "It was a nice display" agreed Chris Picking of Wellington, New Zealand. Aurora alerts: text, voice.
NOCTILUCENT CLOUDS: For the past few nights, evening sky watchers in northern Europe and Canada have seen bright noctilucent clouds hovering at the edge of space. Alan Dyer photographed these electric-blue waves approximately 70 km above a bank of thunderstorms in Gleichen, Alberta:
"An interesting phenomenon in this display was the fringe of red at the upper edge of the thunderclouds, which contrasted nicely with the light blue color of the NLCs," says Dyer.
2013 is shaping up to be a good year for NLCs. The clouds surprised researchers by appearing early this year, and many bright displays have already been recorded. Once confined to the Arctic, NLCs have been sighted in recent years as far south as Utah, Colorado, and Nebraska. They might spread even farther south in 2013.
Observing tips: Look west 30 to 60 minutes after sunset when the sun has dipped 6o to 16o below the horizon. If you see luminous blue-white tendrils spreading across the sky, you've probably spotted a noctilucent cloud.
Realtime Noctilucent Cloud Photo Gallery
[previous years: 2003, 2004, 2005, 2006, 2007, 2008, 2009, 2011]
EARTH-DIRECTED CME: When the current spate of geomagnetic storms is over, another could follow close on its heels. A coronal mass ejection (CME), pictured below, is expected to deliver a glancing blow to Earth's magnetic field late on June 30th or early on July 31st.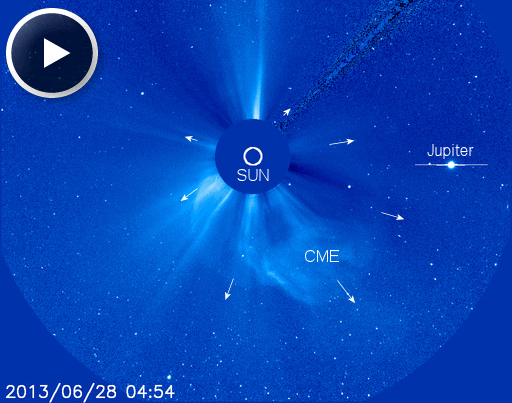 The cloud was propelled in our direction during the early hours of June 28th when magnetic filaments around sunspot AR1777 erupted. The explosion registered approximately C4 on the Richter Scale of Solar Flares. Because the CME is not heading squarely toward Earth, there is still a chance that it will miss. Stay tuned for updates as the arrival time approaches. Aurora alerts: text, voice.
Realtime Space Weather Photo Gallery
---