DOUBLE FLYBY ALERT: Space shuttle Endeavour undocked from the International Space Station this morning at 9:47 a.m. EST, and the two spacecraft are now orbiting Earth in tandem. Endeavour will land at Kennedy Space Center on Sunday, Nov. 30th. Meanwhile, sky watchers have an opportunity to see the two spacecraft flying side-by-side through the night sky. Check the Simple Satellite Tracker for flyby times.
photos: from Pawel Warchal of Cracow, Poland; from Martin Popek of Nýdek, Czech Republic;
SUNSET PLANETS: Tonight when the sun goes down, step outside and look southwest. Venus and Jupiter are lined up beautifully close together in the twilight sky. Saied Bahrami Nezhad sends this picture taken just hours ago from the Lut desert near Kerman, Iran: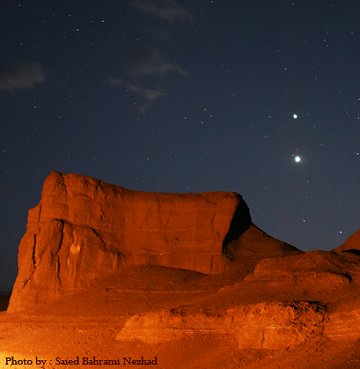 "Seeing the planets so close together was a dreamy experience," says Nezhad. And it's about to get dreamier. On Nov. 30th and Dec. 1st, the crescent moon will leap up from the horizon, joining Jupiter and Venus in a three-way conjunction that some astronomers are calling "the best sky show of the year." Don't miss a single night: Nov. 28, 29, 30, Dec 1.
more images: from Zlatko Pasko of Stara Pazova, Serbia; from Patrick Boomer of Alberta, Canada; from Jens Hackmann of Weikersheim, Germany; from Mahdi Zamani of Kan, Iran; from Cindy Safina of Tsimshatsui, Hong Kong; from Alan Conrad of Liverpool,Nova Scotia; from Jim Werle of Henderson, Nevada; from Martin Mc Kenna of Maghera, Co. Derry, N. Ireland
AURORAS IN MOTION: Two nights ago, a solar wind stream sparked auroras over Lofoten, Norway. Click on the snapshot to set the scene in motion: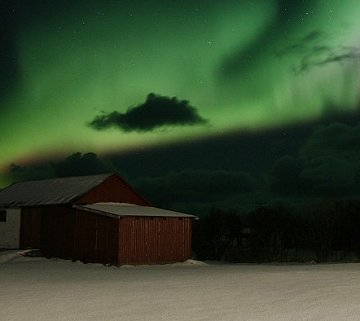 "I used my Canon 400D to take seven pictures at 10-second intervals," says photographer Threes van Nieuwenhoven. He combined the exposures to create a moving portrait, which shows how much Northern Lights can change in little more than a minute. "It was a heavenly feast."
The feast continues next week. Another solar stream is heading toward Earth, due to arrive on or about Dec. 5th. High-latitude sky watchers should be alert for auroras.
Nov. 2008 Aurora Gallery
[Previous Novembers: 2007, 2006, 2004, 2003, 2001, 2000]