ISS MOVIE: If you've never seen a flyby of the International Space Station (or maybe you have, but just can't get enough), click here. The movie shows "the ISS racing over the island of South Manitou in Lake Michigan," says photographer Ken Scott. "I was there to photograph star trails on July 23rd when the space station showed up." Seen the movie? Now check out the real thing.
BREAD MOON: Last week, photographer Patrick Bornet watched in amazement as the Moon rose above the waves of the Mediterranean off the south coast of France. The Almanac predicted a quarter moon, but what was this phantasm he recorded with his Canon 350D?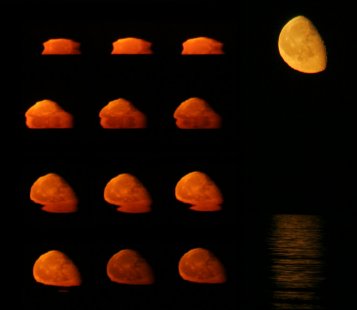 Click to view the complete sequence
Atmospheric optics expert Les Cowley calls it a bread Moon. "The early part of this wonderful sequence reminds me of bread rising as it bakes in the oven," he explains. "Layers of air at different temperatures are responsible for this mirage. The Moon's rays are deflected as they pass through them distorting it and even splitting it into at least three separate images. Notice within the lower temperature inversion layer that there is a moon image setting into the sea as the main one rises!"
Bread moons. Another reason to keep looking up.
SHAGGY PROMINENCE: On an otherwise featureless sun, Alan Friedman of Buffalo, NY, has spotted man's best friend. "Yesterday, I was looking through my telescope (filtered with a Coronado SolarMax90) and found this delicate prominence with more than a passing resemblance to a Scottish terrier."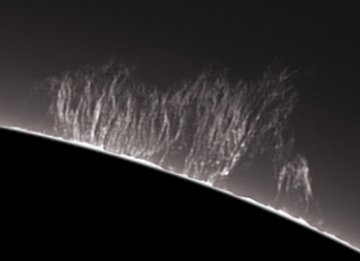 Scottish terriers are known for their dashing beards. This Scottie's beard is made of gaseous hydrogen shaped into hairy forms by solar magnetic force fields towering 30,000 km above the surface of the sun. That's right, Scottie is more than twice as tall as Earth itself. "It's a real shaggy dog story," says Friedman.
Solar magnetic fields change shape from day to day, so the terrier is probably gone now--replaced by some other breed, perhaps? Dog-lovers with solar telescopes, take a look!
more images: from Pete Lawrence of Selsey, West Sussex, UK; from Les Cowley of England; from Steve Wainwright of Swansea, Wales, UK;
---
2008 Noctilucent Cloud Gallery
[Strange Clouds] [Sky Cameras]