CAN PEOPLE GO TO MARS? A new study shows that an 18-month mission to Mars could expose astronauts to more space radiation than NASA shielding technology can handle. Long-term missions to the Moon could be problematic, too. Get the full story from Science@NASA.
EIFFEL LIGHTNING BOLT: Believe it or not, bolts of lightning are shooting out of the Eiffel Tower. Photographer Hakim Atek caught it happening on May 25th: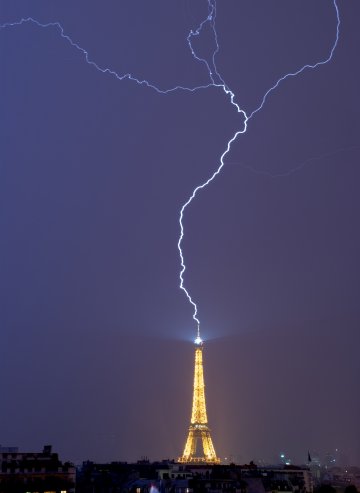 Photo Details: Nikon D80 + Nikkor 18-135mm, ISO 100, f/8, 30s, +2.0ev
"I saw some lightning out the window of my home in Paris," says Atek. "So I set up a tripod and pointed my camera (a Nikon D80) at the Eiffel Tower. I never expected to get such an amazing picture."
But did the Tower really make its own lightning? The surprising answer is "yes."
"The upward branching in this photo shows that the Eiffel Tower actually initiated the discharge," says lightning researcher Richard Blakeslee of the NASA Marshall Space Flight Center. "In other words, instead of starting in the cloud and coming to ground, this flash started when the tower 'launched' a leader that propagated upward toward the cloud (which still served as the source of the electric field needed to get the process going). As the leader ascended, it branched out. Eventually one of the branches reached a region of sufficient charge to 'short out the cloud' and produce the return stroke pictured above."
According to Martin Uman's classic text The Lightning Discharge, upward-initiated discharges are "relatively rare," accounting for less than 1% of all lightning, "and generally occur from mountain tops and tall man-made structures." K. Berger, who studied lightning from a mountaintop location 30+ years ago, was one of the first to describe the phenomenon. Reference: Blizstrom-parameter van aufwarsblizen, Bull. Schweiz. Elektrotech., 69, 353-360, 1978.
more images: from Jens Hackmann of Wuerzburg, Germany; from David Hough of Warner's Bay, NSW, Australia; from Joe Cascio of Buffalo, New York;
JUPITER'S MOON SHOW: Every six years, Earth spends a number of months passing through the orbital plane of Jupiter's moons. During the passage, amateur astronomers get to see a rare display of "mutual occultations." Jupiter's moons eclipse one another in plain view of backyard telescopes.
On May 25th, Mike Salway of Central Coast, Australia, watched Ganymede pass in front of Io. Click on the still-frame to launch a 0.25 MB movie: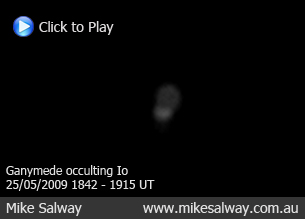 Images like these are unprecedented. Although Jupiter's moons put on the same kind of show in 2002-2003, no one recorded such clear pictures. "Imaging techniques and equipment have improved immensely over the past 6 years," notes Salway. "So this is the first year where amateurs are recording these events and producing detailed, high-resolution images of the phenomena."
If you missed the Ganymede-Io eclipse, don't worry. There are plenty more to come. Mutual occultations of Jupiter's moons will continue from now until nearly the end of the year. As part of the International Year of Astronomy, professional astronomers are organizing a worldwide observing campaign to record as many of these events as possible. Click here for details.
more images: from Efrain Morales Rivera of Aguadilla, Puerto Rico; from Paul Maxson of Surprise, Arizona
---
April 2009 Aurora Gallery
[previous Aprils: 2008, 2007, 2006, 2005, 2004, 2003, 2002]
---