| | | |
| --- | --- | --- |
| Metallic photos of the sun by renowned photographer Greg Piepol bring together the best of art and science. Buy one or a whole set. They make a stellar gift. | | |
IS IT SNOWING MICROBES ON ENCELADUS? As NASA's Cassini spacecraft completes its deepest-ever pass through the plumes of Enceladus, researchers are wondering if it might be snowing microbes there. The idea is not so far-fetched, they say, as evidence mounts for a "uniquely accessible" habitable zone on Saturn's icy moon. [full story]
NORTHERN LIGHTS OVER NEBRASKA: A solar wind stream is buffeting Earth's magnetic field, causing magnetic unrest and auroras at high latitudes. Last night faint Northern Lights descended all the way south to Nebraska. Click to view a movie of the display, photographed by Chris Allington of Crofton, NE: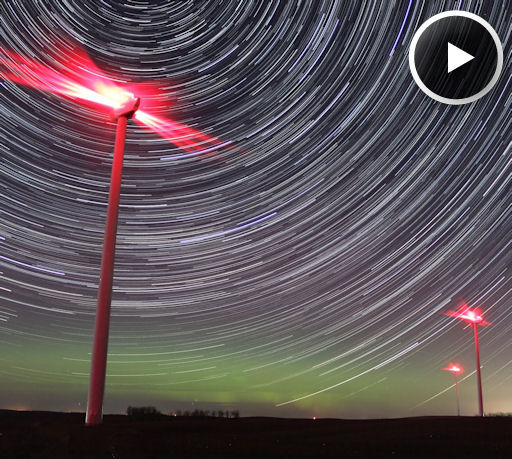 "I certainly didn't expect this tonight, but the plots were interesting enough to get me out and investigate the northern sky with the camera," says Allington. "Suprisingly, around 9:30pm local time I could see the color of the aurora on my camera so I decided to head to a wind farm near my house. The display got much more vibrant and lasted nearly 4 hours from 10pm to 2am. It's not often that auroras are hardly in the forecast and we see them as far south as NEBRASKA! "
The cause of the display was the interplanetary magnetic field (IMF), which tipped south and opened a crack in Earth's magnetosphere. Solar wind poured in to fuel the light. More high-latitude auroras are possible tonight: NOAA forecasters estimate a 50% chance of polar geomagnetic storms as the solar wind continues to blow. Aurora alerts: text, phone.
more images: from Nenne Åman of Arjeplog Northern Sweden; from Randy Halverson of Kennebec, South Dakota; from Paul Martin of Ballintoy Harbour, Antrim coast, N.Ireland; from Claus Vogel of Pelly Crossing, Yukon; from David Done of Anzac, Alberta Canada; from Ray Mckenzie of Saskatoon, Saskatchewan, Canada; from Dirk Obudzinski of Eagle Summit, Alaska; from Adrian Maricic of Loch Leven, Fife Scotland; from Mark Shaw of Dungiven, Northern Ireland; from Martin McKenna of Ballintoy Harbour, Co. Antrim Coast, N. Ireland; from Chris Allington of Crofton, Nebraska;
ATREX EXPERIMENT LIGHTS UP THE NIGHT SKY: Before sunrise on March 27th, sky watchers up and down the eastern seaboard of the United States witnessed a strange apparition. A quintet of milky-white plumes appeared in the night sky, twisting in the winds at the edge of space. "It was pretty unreal and very exciting to see," says eye-witness Jack Fusco, who sends this picture from Seaside Park in New Jersey: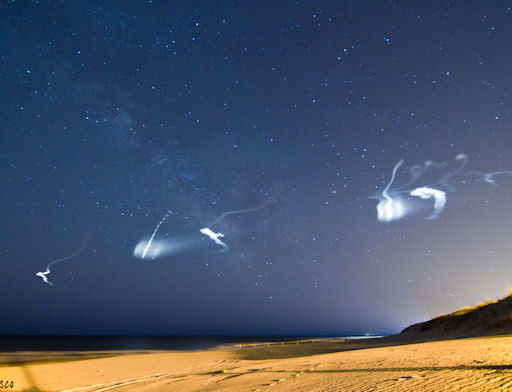 The plumes were chemical tracers (trimethyl aluminum) deposited in the upper reaches of Earth's atmosphere by five rockets launched rapid-fire from NASA's Wallops Flight Facility in Virginia. The goal of the experiment, named ATREX (Anomalous Transport Rocket Experiment), is to study 3D turbulence in the thermosphere.
"We saw the rockets lift off and then slowly release their chemicals, creating trails in the sky," reports Alice B. of Loudoun County, Virginia. "We could also see what I assume were the rocket remnants falling back to Earth."
"Once the chemical tracers from the rockets were released, the view was amazing," adds Bryan Lauber of Frenchtown, NJ. "The tracers were extremely bright and seemed to just fall out of the sky!"
more images: from Harry Pherson of Wallops, Virginia; from Jeff Berkes of West Chester, PA; from Ray Maher of Maurice River Township, N.J; from Mark A. Brown of Carlisle, PA; from Robert T. Smith of Stoneville, NC; from Rich McPeters near Annapolis, Maryland; from Cliff Baldwin of Aquebogue, NY; from David Murr of Louisa, Virginia; from Jim Scott of Fleetwood, PA;
ANOTHER CME FROM SUNSPOT AR1429: Transiting the farside of the sun, never-say-die sunspot AR1429 erupted during the late hours of March 26th, producing its 11th major CME. The Solar and Heliospheric Observatory (SOHO) photographed the cloud flying over the sun's eastern limb: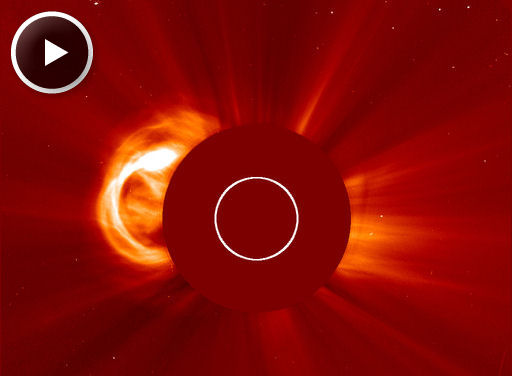 According to a forecast track prepared by analysts at the Goddard Space Weather Lab, the CME will hit two spacecraft, STEREO-B and Spitzer, on March 28th. Earth is not in the line of fire.
This event shows that AR1429, the source of several strong geomagnetic storms in early March, is still active. It will begin turning back toward our planet about a week from now. Stay tuned.
---
February 2012 Aurora Gallery
[previous Februaries: 2011, 2010, 2009, 2008, 2007, 2006, 2004, 2003, 2002]