| | | |
| --- | --- | --- |
| Are we alone? Your iPhone has the answer. Download the all-new Drake Equation app to calculate the population of the Milky Way. | | |
UARS RE-ENTRY ZONE: NASA has released a new statement pinpointing the re-entry of the UARS satellite on Sept. 24th: "The Joint Space Operations Center at Vandenberg Air Force Base in California has determined the satellite entered the atmosphere over the Pacific Ocean at 14.1 degrees south latitude and 189.8 degrees east longitude . This location is over a broad, remote ocean area in the Southern Hemisphere, far from any major land mass. The debris field is located between 300 miles and 800 miles downrange, or generally northeast of the re-entry point. NASA is not aware of any possible debris sightings from this geographic area." [more]
SUBSIDING STORM: A severe geomagnetic storm (Kp=7 to 8) that began yesterday when a CME hit Earth's magnetic field is subsiding. At the peak of the disturbance, auroras were sighted around both poles and in more than six US states including Michigan, New York, South Dakota, Maine, Massachusetts and Minnesota: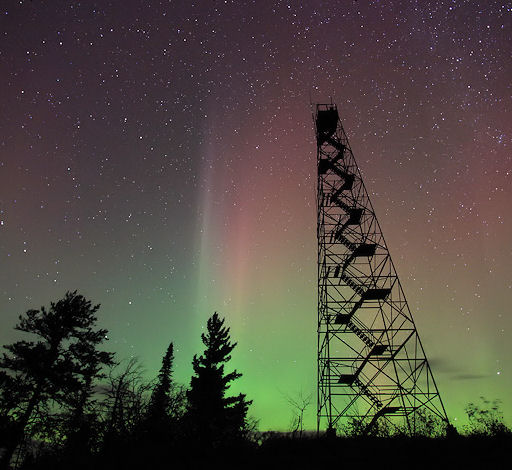 "The evening started off beautifully here in northeast Minnesota," says Travis Novitsky, who photographed the display from Grand Portage. "Almost as soon as it was dark we were seeing tall columns of green and red light. It was brief, yet spectacular!"
Sky watchers at the highest latitudes should remain alert for auroras as Earth's magnetic field continues to reverberate from the CME impact. Aurora alerts: text, voice.
more images: from Aleksander Chernucho of Kola peninsula, Russia; from Minoru Yoneto of Queenstown, New Zealand; from Beatrice van Eden of Antarctica; from Douglas Kiesling of Osakis, Minnesota; from Vanessa Gervais of Chisasibi, Quebec, Canada; from Bjørnar G Hansen of Kvaløya, Norway; from Steven Graham of Christchurch, New Zealand; from Mika Puurula of Sotkamo, Finland; from Jonathan Tucker of Whitehorse, Yukon; from Julius Jahre Sætre of Vestfold, Norway; from Sternwarte Riesa of Segelflugplatz Riesa/ Canitz, Germany; from Elizabeth Gyurgyak of Tananger, Norway; from Reed Ingram Weir of Northumberland, UK; from Krzysztof Polakowski of Rimforsa, Sweden; from Thilo Bubek of Tromsø, Norway; from Bjarne Riesto of Varanger, Norway; from Marek Nikodem of Szubin, Poland;
BIG SUNSPOT: The source of all this solar and geomagnetic activity is sunspot AR1302. Measuring more than 150,000 km from end to end, the sprawling active region is visible even without a solar telescope. Fabiano Belisário Diniz saw it plainly in last night's sunset from Curitiba, Brazil: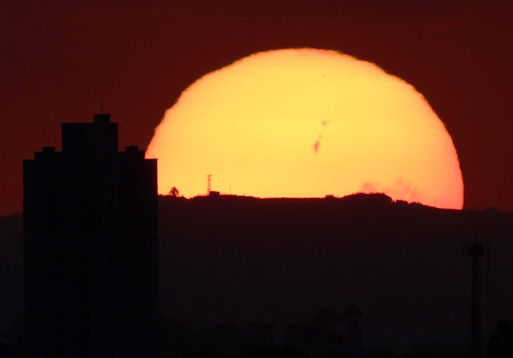 "It was overcast and cold all day long, but at the end of the day a break in the clouds revealed the sun and AR1302," says Diniz. "What a great sight!"
The sunspot has quieted down since unleashing dual X-flares on Sept. 22nd and 24th. Nevertheless, NOAA forecasters estimate a 40% chance of more X-flares during the next 24 hours. Any such eruptions would be Earth-directed as the sunspot crosses the center of the solar disk. Solar flare alerts: text, voice.
more images: from Ali Norouzi of Karaj, Iran; from Stefano Sello of Pisa, Italy; from Phil Greaves of Sydney Australia; from Stefan Plach of Stadt Wehlen, Saxony, Germany; from Monty Leventhal OAM of Sydney, Australia; from Rogerio Marcon of Campinas SP Brasil; from Francisco A. Rodriguez of Cabreja Mountain Observatory, Canary Islands;
---
September 2011 Aurora Gallery
[previous Septembers: 2010, 2009, 2008, 2007, 2006, 2005, 2004]