HOAX ALERT: Today is the day of the Mars Hoax. According to a widespread rumor, on August 27th Mars will approach Earth so close that it looms as large as a full Moon in the Thursday-night sky. Don't believe it.
LUNAR OCCULTATION: On Thursday, Aug. 27th, the half Moon will pass directly in front of first-magnitude star Antares. The event is best seen from the Atlantic side of North America. Small telescopes pointed at the Moon will show Antares vanish behind the Moon's dark limb around 4:30 pm EDT, all framed by afternoon blue sky. [time tables]
SOLAR ACTIVITY: In the pits of a century-level solar minimum, the sun is setting new records for quiet. But really, how quiet can a 1027-ton nuclear explosion (a star) ever be? The Solar and Heliospheric Observatory recorded some lively action on August 25th and 26th: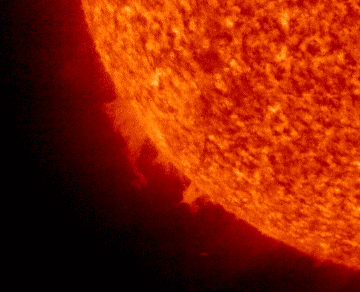 The 42-hour time-lapse movie shows a prominence, a swirling cloud of hydrogen held up unsteadily by solar magnetic fields. Prominences appear to be the one form of solar activity that continues apace even when sunspots are absent. Readers with solar telescopes, for a good show train your optics on the edge of the sun.
more images: from Joe Bartolick of Livermore, California; from Michael Buxton of Ocean Beach, California; from Adrian Guzman of San Jose, CA; from Richard Bailey of Barham, Kent, UK; from Monty Leventhal of Sydney. Australia; from Stephen Ames of Hodgenville, Kentucky; from Pavol Rapavy of Observatory Rimavska Sobota, Slovakia; from Fabio Mariuzza of Biauzzo, Codroipo, Italy
DISAPPEARING MOON: One of the moons shown below is about to disappear. Click on the image to watch it happen: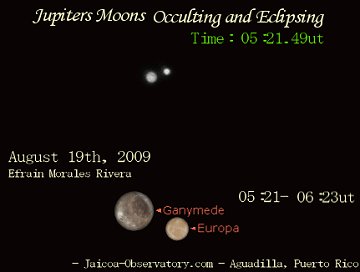 Efrain Morales Rivera of Aguadilla, Puerto Rico, made the movie on August 19th. It shows Jupiter's giant moon Ganymede casting its shadow across smaller Europa.
"I used a Meade LX200 telescope and a CCD camera to record the event," he says. The camera rolled for two hours, "and I gathered 10 gigabytes of data before Hurricane Bill intervened." The storm was passing by Puerto Rico, and its clouds shut down the observing session.
That's okay, there are more photo-ops to come. Earth is passing through the orbital plane of Jupiter's moons, lining them up for a delightful display of mutual occultations and eclipses in September. Get the full story from Sky & Telescope.
more images: from Jeremy Perez of Flagstaff, Arizona; from Mark A. Brown of Springfield, Virginia; from Rudi Dobesberger of Neuzeug, Austria; from Antonios Pantelidis of Florina, Greece; from Lütfü Çakmak of K.Maras, Turkey
---
August 2009 Aurora Gallery
[previous Augusts: 2008, 2007, 2006, 2005, 2004, 2003, 2002, 2001]
---