Where's Saturn? Is that a UFO--or the ISS? What's the name of that star? Get the answers from mySKY--a fun new astronomy helper from Meade.

DUST STORM UPDATE: A global dust storm on Mars which began in late June refuses to die down. Clouds of dust are now visible in mid-sized backyard telescopes (July 25th image from Jim Melka) and the planet is beginning to resemble a orange billiard ball (July 26th image from Sean Walker) as all of its underlying surface markings are hidden from view. NASA has commanded Mars rovers Spirit and Opportunity to remain in a state of low activity while solar power is in critically short supply. "We are still waiting out the storms, and we don't know how long they will last or how bad they will get," says John Callas of NASA's Jet Propulsion Laboratory: status report.

SPACE JUNK: Weight: 1400-lb. Size: Akin to a double-wide refrigerator. It is, in short, one big piece of space junk: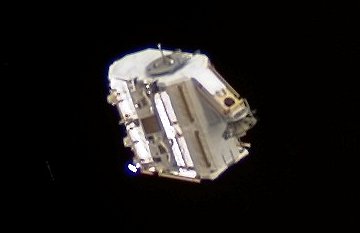 Photo credit: The crew of the International Space Station. [more]
Pictured above is the Early Ammonia Servicer (EAS), hurled into space this week by astronauts working outside the International Space Station: movie. The EAS was installed in 2001 as an ammonia reservoir for the station's internal cooling system, but it was no longer needed after an improved cooling system was activated in 2006. So, astronauts pushed it overboard to make room for new construction.
The tank is now circling Earth. On July 25th, Kevin Fetter used a low-light video camera to photograph EAS tumbling across the sky over his home in Brockville, Ontario: movie. "The flashes (caused by sunlight reflected from the tanks flat surfaces) were about 6th magnitude," he estimates--not quite visible to the naked eye. The brightness will increase about 10 months from now when the orbit decays and EAS enters Earth's atmosphere as a flaming meteor. Stay tuned.
COMET COLORS: What makes Comet Linear VZ13 blue-green? Answer: Cyanogen (CN), diatomic carbon (C2) and, surprisingly, a dash of amidogen (NH2). Those are the compounds identified by John Cordiale of Queensbury, NY, on July 12th when he passed light from the comet through an SBIG DSS7 spectrograph: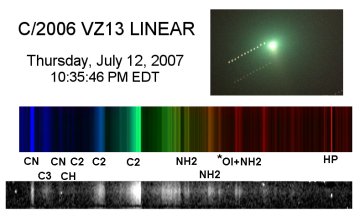 Click on the image for photo details
Each molecule in the comet's atmosphere emits light of a signature color (or colors) when illuminated by the sun--a process called "resonant florescence." A spectrograph spreads the colors out for easy identification. Only one problem: The comet is very faint, requiring an exposure of nearly 30 minutes through a 10-inch telescope to produce the data shown above. Considerable skill was required.
"This is the most detailed comet spectrum I have gotten so far," says Cordiale. "It was the first time I pulled out the NH2 lines. Even though this comet is not the brightest, it has proved to be very interesting."
---
.2007 Noctilucent Cloud Gallery
[Night-Sky Cameras] ["Noctilucent Cloud"--the song]