| | | |
| --- | --- | --- |
| AURORA ALERTS: Did you miss the Northern Lights of June 25th? Next time get a wake-up call from Space Weather PHONE. | | |
FRIENDLY SOIL: Mars lander Phoenix's onboard chemistry lab has analyzed some scooped-up martian soil and "found a reasonable number of nutrients needed by life as we know it," reports chemist Sam Kounaves of Tufts University. Moreover, minerals in the sample seem to have interacted with water. In many ways, he says, "the mineralogy of Mars is very much like Earth." Get the full story from NASA.gov.
NOCTILUCENT SILHOUETTE: "Last night, June 26th, we had a bright and wonderful display of noctilucent clouds," says Marek Nikodem of Szubin, Poland. "They were so very beautiful and it was fascinating to watch their rippling movements." He calls this 3-second exposure Noctilucent Silhouette: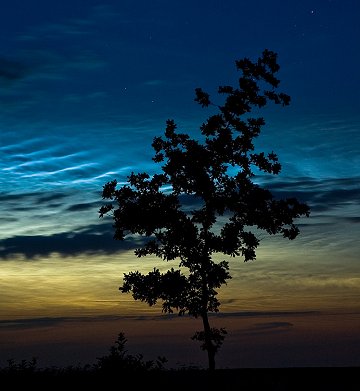 Noctilucent cloud activity has surged this week, with sightings in Russia, the Ukraine, Poland, Sweden, Lithuania, the Netherlands, Northern Ireland and England. "I've been watching NLCs for 20 years, and this is one of the better displays I've seen," says Camilla Bacher Kiming of Denmark. In Northern Ireland, longtime NLC photographer Martin McKenna witnessed "a real shadow-caster, which showed off intense silver, white and blue colors. I was lucky to catch this one."
Curiously, sky watchers in Canada and southern Alaska have not reported corresponding displays. The latitude is right, but the clouds are either absent or going unnoticed. If you live in that part of the world, be alert for electric-blue waves and tendrils after nightfall. Observing tips may be found in the photo gallery:
2008 Noctilucent Cloud Gallery
["Noctilucent Clouds"--the song] [Night-sky Cameras]
RAINBOW OF FIRE: Today around noon, look up in the sky. You just might see a rainbow of fire: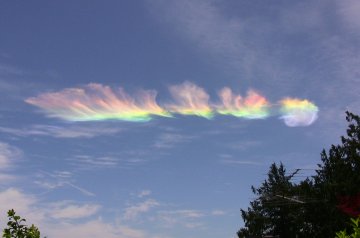 The correct name of this phenomenon is circumhorizontal arc. It's a colorful splash of light caused by sunbeams striking crystals of ice in cirrus clouds. Commonly called "fire rainbows" or "rainbows of fire," circumhorizontal arcs have nothing to do with either rain or fire. They are a sign of ice floating in clouds some 10 km above the ground.
"This particular arc materialized above Mt. Rainier on June 25th," says photographer Carol Steinel of Port Townsend, Washington. "It first appeared as a fragment, then spread to occupy a quarter of the visible sky. A young man outside my home was telephoning his mom to say, 'Mom! Look at the sky!'"
Summer is the season for circumhorizontal arcs because they appear only when the sun is high in the sky--more than 58o above the horizon. The arc's enormous size and pure spectral colors make it one of the most beautiful of all ice halos.
more images: from Corien Bakermans et al at the Artist Point Drive Picnic Area, Yellowstone Natl Park; from Darrell Oake of Halifax NS Canada; from Derek C Breit of Morgan Hill, CA; from Mark R. Everhart of Boise, Idaho; from Tobias Billings of Gallatin, Missouri;
---
June 2008 Aurora Gallery
[Aurora Alerts] [Night-sky Cameras]