Where's Saturn? Is that a UFO--or the ISS? What's the name of that star? Get the answers from mySKY--a fun new astronomy helper from Meade.

PLANETS ALIGN: Venus and Saturn are converging for a close encounter on June 30th when the pair will be only 2/3o apart. You can watch the distance shrink in the nights ahead. Step outside after sundown and look west. Venus is the brightest object in the sky; Saturn is the yellow dot right beside it. Sky maps: June 27, 28, 29, 30, July 1.

ANOTHER SUNSPOT: A new sunspot is lurking just over the sun's eastern limb. Its approach is revealed in an x-ray image taken this morning by Japan's Hinode spacecraft: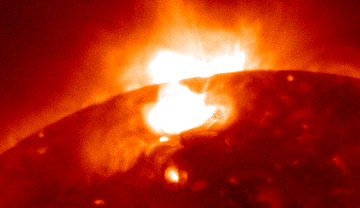 In the foreground we see a seething-hot cloud of gas held suspended by magnetic force fields above sunspot 961. Another such cloud lies in the background--but the underlying sunspot is still over the horizon. The sun's 27-day rotation should move this new active region into view during the next 48 hours. Amateur astronomers, if you have a solar telescope, keep an eye on the sun's eastern limb.
MORNING NLCs: This morning before sunrise in Leipzig, Germany, "a friend called and woke me up," reports Christian Schmidt. "There were noctilucent clouds outside, bright enough to see over the light polluted city of Leipzig!" He took this picture: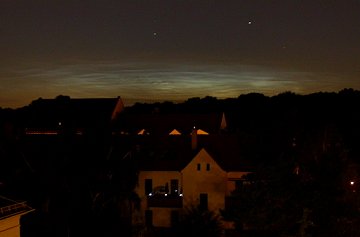 Photo details: Nikon Coolpix 4500, 100 ASA, 20s exposure
Similar displays were seen by early risers in Britian and across Canada. "I was heading out to my car and I instantly saw these noctiucent clouds!" says Lukas Gornisiewicz of Dunmore, Alberta. "They're the best I've seen in three years."
Why this morning? No one can answer that question. The formation of noctilucent clouds (NLCs) is a mystery, and until that mystery is solved, it is impossible to forecast precisely when they will appear. We do know however, that NLCs prefer summer, and they are easiest to see about 90 minutes before sunrise or after sunset. Be alert!
more June 27th images: from Lance Taylor of Edmonton, Alberta, Canada; from Alan C Tough of Elgin, Moray, Scotland.
EXTRA--NLC PILLARS: "What a stunning NLC display we had here before dawn," reports Martin McKenna of Northern Ireland. "Once the normal clouds broke, I was blessed with the strangest of sights. Shooting up over my neighbors rooftop were multiple thick intense white pillars of NLCs with vertical dark shadow shafts - I have never seen structure like this before!" Photos: #1, #2.