Where's Saturn? Is that a UFO--or the ISS? What's the name of that star? Get the answers from mySKY--a fun new astronomy helper from Meade. .

STRANGE COMET: Most sungrazing comets never make it past their first close encounter with the sun. Fierce heat annihilates their fragile icy cores. But SOHO has discovered one that returns to the sun every four years and somehow survives--or rather most of it does. P/2007 R5 (SOHO) is a rare comet without a tail: full story.

HARVEST MOON: There's a full moon Wednesday night and it has a special name--the Harvest Moon. In the days before electric lights, farmers relied on moonlight to help them gather ripening autumn crops. The "Harvest Moon" rising brightly in the east at sunset allowed work to continue late into the night.

Post-Edison, we appreciate the Harvest Moon mainly for its beauty: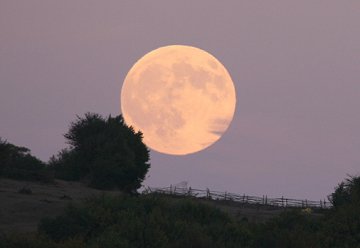 This photo, taken just a few hours ago, shows the Harvest Moon rising over rural Bolu, Turkey. "I used a Canon EOS 5D at ISO 400 with an exposure of 1/100 seconds," says photographer Tunç Tezel.
more images: from P-M Hedén of Vallentuna, Sweden; from Martin McKenna of Maghera, Co. Derry, N. Ireland; from Daisuke Tomiyasu of Higashinada, Kobe, Japan; from Mila Zinkova of San Francisco, California; from Edgar at the Bay Bridge in San Francisco, California; from Milan Gucic of Belgrade, Serbia.
WINDOW SEAT: Sylvain Chapeland was flying from Los Angeles to London two nights ago when "a great show erupted over Greenland. The auroras were really nice even through the airplane window." (continued below)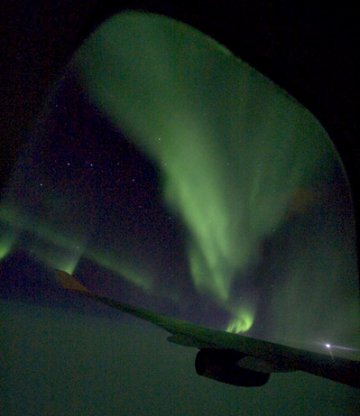 Photo details: Canon EOS 350D, ISO 1600, 10s. More: #1, #2, #3
The display was fueled by a high-speed solar wind stream that hit Earth on Sept. 21st, sparking polar auroras for three nghts in a row--including the night of Chapeland's flight. Get ready for more: Another stream is en route from the sun, due to arrive on Sept. 27th.
Incidentally, Chapland may have pioneered a new method of aurora watching: Book a transcontinental polar night flight when geomagnetic storms are in the offing. Just don't forget the window seat!
September 2007 Aurora Gallery
[August 2007 Aurora Gallery] [Aurora Alerts]