Where's Saturn? Is that a UFO--or the ISS? What's the name of that star? Get the answers from mySKY--a fun new astronomy helper from Meade.

EERIE RED EYES: At 3:30 am Monday morning, the red planet Mars and the red giant star Aldebaran will rise in the east side-by-side like a pair of eerie red eyes in the sky. Set your alarm! [sky map] [full story]

LUNAR ECLIPSE: On Tuesday, Aug. 28th, the full Moon will slip into Earth's shadow for a two-hour total eclipse. People on the Pacific side of Earth including much of North America (map) will have the best view as the Moon turns a dreamy shade of sunset red. Graphic artist Larry Koehn created this animation of the event: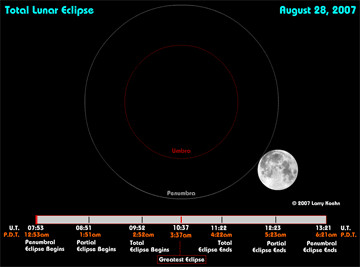 Click to view the full-sized animation
If you're in viewing range of the eclipse and you wish to photograph it, browse this gallery and check for successful photo settings used by other photographers during the March 3, 2007, total eclipse. The action begins Tuesday morning around 0900 UT or 2 am Pacific Daylight Time; be ready!
Live eclipse webcasts: from Las Vegas, Nevada.
FIRST LIGHT FOR THE USA: Sometimes the prettiest solar activity ... is a sunrise. On Aug. 21st, veteran solar photographer Greg Piepol captured "these first few rays of a new day" from the summit of Cadillac Mountain in Acadia National Park, Maine: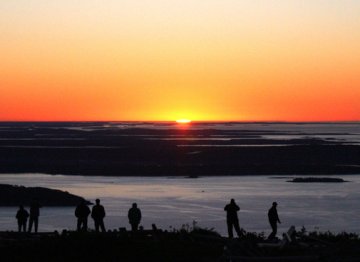 "I've enjoyed many high-tech filtered images of the sun, but sometimes just plain sunlight is breathtaking," he says. The desktop wallpaper version is available here.
Note: Piepol caught the first rays of the sun to hit the continental USA on Aug. 21st--or not. It depends on who you ask. "Cadillac Mountain is the highest point on the eastern seaboard at 1530 feet and it is widely thought to be the point of first light," he explains. "But some say that Lubec, Maine, the easternmost place in the USA, is the true point of first light during summer months." Photographers in Maine, ready your cameras and synchronize your watches. You have a beautiful problem to solve.