| | | |
| --- | --- | --- |
| Listen to radar echoes from satellites and meteors, live on listener-supported Space Weather Radio. | | |
PERSEID METEOR SHOWER: New research by NASA's Meteoroid Environment Office shows that one meteor shower produces more fireballs than any other--the Perseids. This year's Perseid peak is just around the corner on August 12-13. Get ready for fireballs.
MAGNETIC UNREST: Earth's polar magnetic field is unsettled as a fast-moving stream of solar wind blows around our planet's magnetosphere. Last night, the buffeting sparked bright auroras over James Bay, Canada: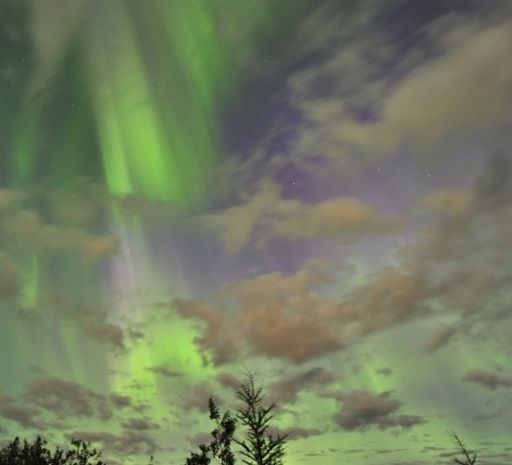 "Auroras shone between the clouds until daylight," says photographer Michel Tournay. "Too soon...no... Earth stop rotating, the show is not over!"
NOAA forecasters estimate a 55% chance of geomagnetic storms on July 26th as the solar wind continues to blow. High-latitude sky watchers should remain alert for auroras. Aurora alerts: text, voice.
UNDERWHELMING: Solar Cycle 24 is shaping up to be the weakest solar cycle in more than 50 years. In 2009, a panel of forecasters led by NOAA predicted a below-average peak. Now that Solar Max has arrived, however, it is even weaker than they expected. Look inside the yellow circle to see the shortfall: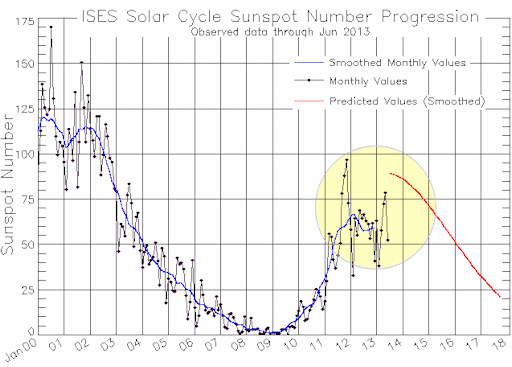 It may be premature to declare Solar Cycle 24 underwhelming. Solar physicist Dean Pesnell of the Goddard Space Flight Center thinks Solar Cycle 24 is double peaked--and the second peak is yet to come. Also, weak solar cycles have been known to produce very strong flares. The strongest solar storm in recorded history, the Carrington Event of 1859, occurred during a relatively weak solar cycle like this one.
Stay tuned for flares? Maybe, but not this week. Solar activity remains very low. Solar flare alerts: text, voice.
PETUNIAS AT THE EDGE OF SPACE: The students of Earth to Sky Calculus have recovered the petunias they sent to the stratosphere last Friday. The flowers left Earth July 19th onboard a helium research balloon, ascended to 110,570 feet, then parachuted back to Earth on the same day. These four screenshots, culled from more than 2 hours of high-definition video, summarizes what happened: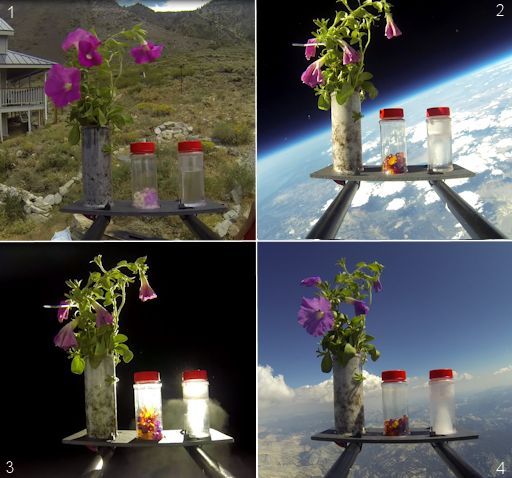 (1) The flowers were pink and alert when they left Earth. (2) An hour later, in the stratosphere, the flowers appear limp and wilted, but they were not. Actually, the flowers were frozen. The petals were bent downward by onrushing wind during the ascent, and they froze in place as the petunias passed through the tropopause where the temperature was -63 C. (3) You can see that the flowers were frozen stiff because when the balloon exploded, they did not move at all. (4) Finally, as the payload parachuted back to Earth the flowers thawed and turned deep purple.
The petunias were just one of several experiments flown to the stratosphere on July 19th during Cassini's historic photo-shoot of Earth through the rings of Saturn. Other items on board were selected competitively from more than 1056 entries suggested by Spaceweather.com readers. First place winners of the competition received free telescopes from Explore Scientific.
For updates about data from this flight, please follow the Earth to Sky Calculus Twitter feed.
Realtime Space Weather Photo Gallery
---
---
Realtime Noctilucent Cloud Photo Gallery
[previous years: 2003, 2004, 2005, 2006, 2007, 2008, 2009, 2011]
---