| | | |
| --- | --- | --- |
| NEW AND IMPROVED: Turn your iPhone or iPod Touch into a field-tested global satellite tracker. The Satellite Flybys app now works in all countries. | | |
POISED TO ERUPT: Already this month, the sun has produced two of the biggest eruptions in years. They occurred on April 13th and April 19th when magnetic filaments became unstable and exploded. Could it happen again today? A prominence on the eastern limb of the sun (photo) resembles the precursors of those two earlier blasts. Readers with solar telescopes are encouraged to monitor developments.
WEEKEND SKY SHOW: Did you catch Venus this weekend? Polish photographer Marek Nikodem did: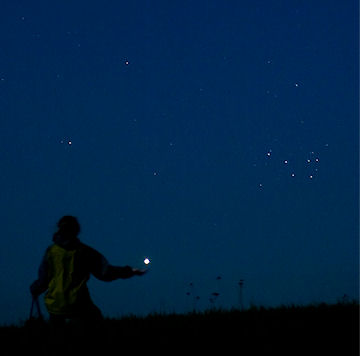 Details: Nikon D700/ Nikkor 28-105, exp. 3-8 sec, ISO 1000-1600
He took the picture from the countryside near Szubin, Poland, during a twilight conjunction between Venus and the Pleiades star cluster.
"The planet Venus shone like the brightest diamond in the sky; the Pleiades were more like tiny diamonds in a box," says Nikodem. "It was an amazing and wonderful show."
more images: from Mahdi Rahimi of Esfahan, Iran; from Adrian New of San Antonio, Texas; from Tomasz Adam of Staszów, Poland; from Sorin Hotea of Sighet, Romania; from Siamak Sabet of Tehran, Iran;
SPACE SHUTTLE DISCOVERY: Consider the following photos of space shuttle Discovery. The big image was taken at a range of just a few hundred meters by astronauts onboard the International Space Station. The smaller, inset image, which shows nearly as many details, was taken at a range of a few hundred thousand meters by French astrophotographer Theirry Legault of France. It is the finest ground-based photo of a space shuttle to date.
"I photographed Discovery on April 20th when it passed over France just a few hours before landing in Florida," says Legault. "Numerous details are recognizable: the elevons, the robotic arm--even the NASA logo!"
Legault, who is legendary among astrophotographers for his extraordinary shots of spacecraft and other thinggs, took the picture through a 10" Meade ACF telescope on a modified Takahashi EM-400 mount. The trick, he says, was using a green laser to pinpoint the spacecraft and a custom-made double joystick to track the shuttle as it glided across the sky. Click here for the full story.
---
April Northern Lights Gallery
[previous Aprils: 2009, 2008, 2007, 2006, 2005, 2004, 2003, 2002]