| | | |
| --- | --- | --- |
| Don't just watch shooting stars. Wear them! Authentic meteorite jewelry for Valentine's Day is now available in the SpaceWeather Store. | | |
ASTEROID FLYBY: Newly-discovered asteroid 2012 BX34 will fly past Earth on Jan. 27th only 77,000 km (0.2 lunar distances) away. There is no danger of a collision with the 14-meter wide space rock. Advanced amateur astronomers might be able to observe the flyby as the asteroid brightens to 14th magnitude just before closest approach on Friday at 1530 UT. [3D orbit] [ephemeris]
SUNSET PLANETS: For the second day in a row, Venus and the crescent Moon are shining together in the sunset sky. Look west at the end of the day for a beautiful view. New images: #1, #2, #3, #4, #5, #6, #7, #8, #9, #10, #11, #12.
MORE SOLAR ACTIVITY: Sunspot AR1402, the source of this week's powerful M9-class solar flare, is acting up again. On Jan. 26th between 0100 UT and 0600 UT, a sequence of C-class magnetic eruptions around the active region hurled a bright coronal mass ejection over the sun's north pole, shown here in a coronagraph image from the Solar and Heliospheric Observatory: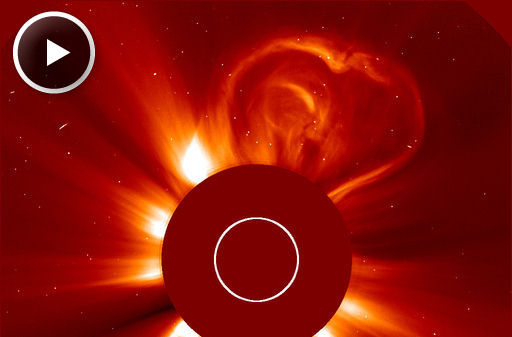 The cloud is not heading toward Earth, at least not directly. This and future eruptions from AR1402 are unlikely to be geoeffective as the sunspot is turning away from our planet. By week's end it will be on the far side of the sun, blasting its CMEs toward planets on the opposite side of the solar system.
AURORAS OVER THE USA: The geomagnetic storm of Jan. 24th died out before night fell over North America--or did it? According to reports still trickling in, auroras were reported not only in Canada, but also in some of the lower 48 US states. Shawn Malone of Marquette, Michigan, took this picture looking north from the shores of Lake Superior: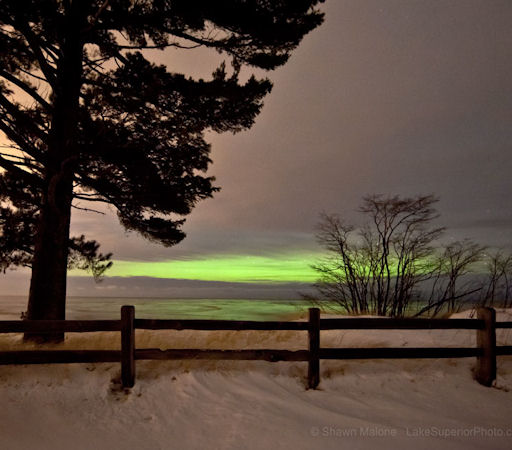 "I got to view a slice of the aurora through a tiny opening in an otherwise completely overcast sky," says Malone. "It appeared to be a pretty decent display."
Prompted by the CME warning, Mike Hollingshead of Nebraska drove 450 miles to the Badlands National Park of South Dakota hoping to catch a glimpse of the auroras. He got more than he bargained for: "While I waited for some sign of auroras, the most amazing fireball I've ever seen blasts down. It flashed brightly and illuminated the terrain around me." Later, the auroras made a belated appearance, turning the badland sky green.
More auroras could be in the offing. A solar wind stream is heading for Earth, due to arrive on Jan. 28-29. NOAA forecasters estimate a 15% chance of geomagnetic storms at high latitudes. Aurora alerts: text, voice.
more images: from Stephan Hoglund of Grand Marais, Minnesota; from Kimberly S Mietzah Damkoehler of Houston, Alaska; from Robert Berdan of Calgary, Alberta; from Bob Conzemius of Lake of the Woods, Minnesota; from Matt Melnyk of Edmonton, Alberta; from Sylvain Serre of Ivujivik, Nunavik, Quebec, Canada;
January 2012 Aurora Gallery
[previous Januaries: 2010, 2009, 2008, 2007, 2005, 2004]
---
Comet Lovejoy Gallery
[previous comets: McNaught, Holmes, Lulin, Tuttle, Ikeya-Zhang]