| | | |
| --- | --- | --- |
| Lights Over Lapland has a brand-new website full of exciting adventures in Abisko National Park, Sweden! Take a look at our aurora activities and book your once-in-a-lifetime trip with us today! | | |
STEALTHY CME PROMPTS UNCERTAIN FORECAST: A very faint coronal mass ejection (CME) billowed away from the sun on Oct. 23th (1800 UT) following the collapse of a magnetic filament. The CME was so faint, in fact, that forecasters aren't sure how fast or in what direction it was moving. There is a slim chance of an Earth impact in the days ahead, worth mentioning only because CMEs often produce the best auroras. Mark this forecast uncertain. Free: Aurora Alerts.
THE DARK SIDE OF VENUS: Around the world today, amateur astronomers are very carefully observing the dark side of Venus. The second planet from the sun is passing almost directly between the sun and Earth, turning its night side toward us. Only a sliver of Venus remains illuminated in the daytime sky, shown here in a photo taken this morning by Steven Bellavia of Upton, NY: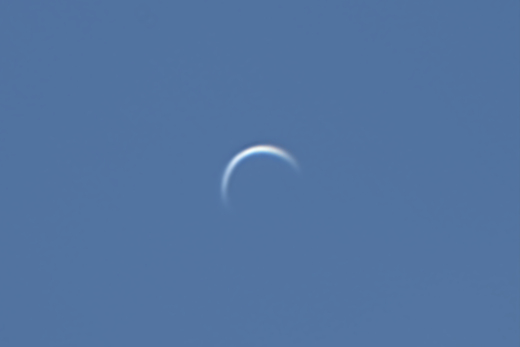 "This is Venus at 0.6% illumination, as thin as it will get until June 2020," says Bellavia. "I took the picture using my Celestron C6 telescope."
Astronomers call this an "inferior solar conjunction of Venus." This is arguably the most beautiful time to observe Venus, but also the most perilous. The glare of the nearby sun magnified by a telescope can damage the eyes of anyone looking through the eyepiece.
Anthony J. Cook of the Griffith Observatory has some advice for observers: "I have observed Venus at conjunction, but only from within the shadow of a building, or by adding a mask to the front end of the telescope to fully shadow the optics from direct sunlight. This is tricky with a refractor or a catadioptric, because the optics start at the front end of the tube. Here at Griffith Observatory, I rotate the telescope dome to make sure the lens of the telescope is shaded from direct sunlight, even through it means that the lens will be partially blocked when aimed at Venus. With our Newtonian telescope, I add a curved cardboard mask at the front end of the tube to shadow the primary mirror."
The horns of the crescent might actually touch when the Venus-sun angle is least (~6 degrees) on Oct. 26th. Stay tuned!
LASER-ETCHED MOON CUBE: Last month, the students of Earth to Sky Calculus launched a cosmic ray balloon to the stratosphere. This unique laser-etched Moon cube went along for the ride, ascending to an altitude of 101,140 feet: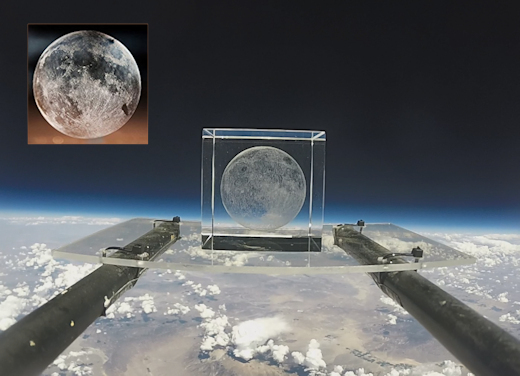 You can have it for $99.95. The students are selling these cubes as a fund-raiser for their cosmic ray ballooning program. It's an authentic representation of the Moon, with all of the craters, mountains and lava plains accurately portrayed.
Each Moon-cube comes with a unique gift card showing the item floating at the top of Earth's atmosphere. The interior of the card tells the story of the flight and confirms that this gift has been to the edge of space and back again.
Far Out Gifts: Earth to Sky Store
All sales support hands-on STEM education
ATMOSPHERIC COSMIC RAYS ARE INCREASING: So you thought Solar Minimum was boring? Think again. High-altitude balloon flights conducted by Spaceweather.com and Earth to Sky Calculus show that atmospheric radiation is intensifying from coast to coast over the USA--an ironic result of low solar activity. Take a look at the data: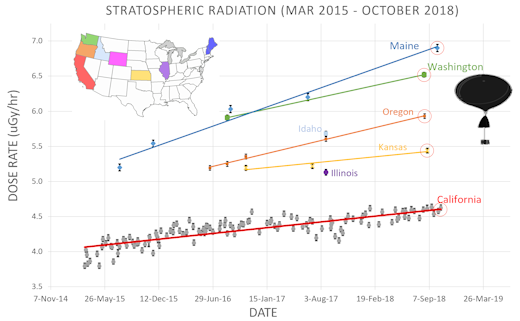 Above: Dose rates at the Regener-Pfotzer Maximum, ~65,000 ft high at the entrance to the stratosphere.
Since 2015, we have been monitoring X-rays, gamma-rays and neutrons in the stratosphere--mainly over central California, but also in a dozen other states (NV, OR, WA, ID, WY, KS, NE, MO, IL, ME, NH, VT). Everywhere we have been there is an upward trend in radiation--ranging from +20% in central California to +33% in Maine. The latest points, circled in red, were gathered during a ballooning campaign in August-October 2018.

How does Solar Minimum boost radiation? The answer lies in the yin-yang relationship between cosmic rays and solar activity. Cosmic rays are the subatomic debris of exploding stars and other violent events. They come at us from all directions, 24/7. Normally, the sun's magnetic field and solar wind hold cosmic rays at bay--but during Solar Minimum these defenses weaken. Deep-space radiation surges into the solar system.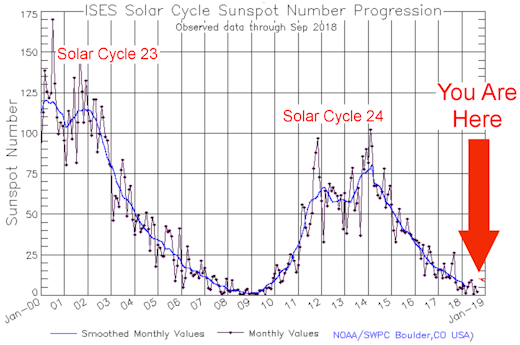 Cosmic rays crashing into our planet's atmosphere produce a spray of secondary particles and photons. That secondary spray is what we measure. Each balloon flight, which typically reaches an altitude greater than 100,00o feet, gives us a complete profile of radiation from ground level to the stratosphere. Our sensors sample energies between 10 keV and 20 MeV, spanning the range of medical X-ray machines, airport security devices, and "killer electrons" in Earth's radiation belts.

Who cares? For starters, anyone who flies. Cosmic radiation at aviation altitudes is typically 50 times that of natural sources at sea level. Pilots are classified as occupational radiation workers by the International Commission on Radiological Protection (ICRP) and, according to a recent study from researchers at the Harvard School of Public Health, flight attendants face an elevated risk of cancer compared to members of the general population. They listed cosmic rays as one of several risk factors. Weather and climate may also be affected, with some research linking cosmic rays to to the formation of clouds and lightning. Finally, there are studies (one recently published in Nature) asserting that heart rate variability and cardiac arrhythmias are affected by cosmic rays in some populations. If true, it means the effects reach all the way to the ground.

As 2018 comes to an end, Solar Minimum appears to be just getting started. Cosmic rays could continue to increase for years to come, so stay tuned. A sharable version of this story is available here.
Realtime Space Weather Photo Gallery
---
Every night, a network of
NASA all-sky cameras
scans the skies above the United States for meteoritic fireballs. Automated software maintained by NASA's Meteoroid Environment Office calculates their orbits, velocity, penetration depth in Earth's atmosphere and many other characteristics. Daily results are presented here on Spaceweather.com.
On Oct. 25, 2018, the network reported 22 fireballs.
(17 sporadics, 2 epsilon Geminids, 2 Orionids, 1 chi Tauri)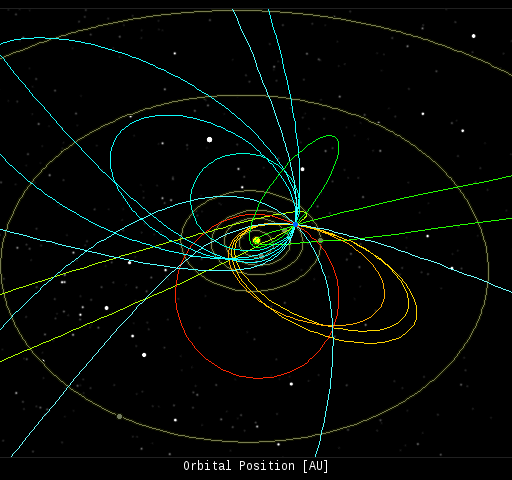 In this diagram of the inner solar system, all of the fireball orbits intersect at a single point--Earth. The orbits are color-coded by velocity, from slow (red) to fast (blue). [Larger image] [movies]
Potentially Hazardous Asteroids (
PHAs
) are space rocks larger than approximately 100m that can come closer to Earth than 0.05 AU. None of the known PHAs is on a collision course with our planet, although astronomers are finding
new ones
all the time.
On October 25, 2018 there were
1936
potentially hazardous asteroids.

Recent & Upcoming Earth-asteroid encounters:
Asteroid

Date(UT)

Miss Distance

Velocity (km/s)

Diameter (m)

2018 US1

2018-Oct-21

2.3 LD

7.1

14

2018 UC2

2018-Oct-23

9.5 LD

19.4

152

2018 UH1

2018-Oct-24

5.3 LD

13

35

2018 TT5

2018-Oct-24

15.9 LD

10.2

29

2018 UE

2018-Oct-25

17.3 LD

16.1

44

475534

2018-Oct-29

7.5 LD

18.1

204

2018 UC

2018-Oct-30

5.4 LD

9.3

22

2018 UY1

2018-Nov-04

7.4 LD

8.3

56

2002 VE68

2018-Nov-04

14.7 LD

8.6

282

2018 TF3

2018-Nov-05

7.8 LD

20.6

302

2010 VQ

2018-Nov-07

15.6 LD

3.8

10

2018 UQ1

2018-Nov-13

9.4 LD

12.3

151

2009 WB105

2018-Nov-25

15.2 LD

18.9

71

2008 WD14

2018-Nov-27

7.4 LD

9.3

93

2001 WO15

2018-Nov-28

13.6 LD

11.7

107

2018 TG6

2018-Dec-02

3.9 LD

1.4

13

2013 VX4

2018-Dec-09

4.1 LD

6.6

65

2015 XX169

2018-Dec-13

17 LD

5.8

12

2017 XQ60

2018-Dec-21

11.3 LD

15.6

47

163899

2018-Dec-22

7.4 LD

6.2

1232

418849

2018-Dec-23

16.6 LD

17.6

269

Notes: LD means "Lunar Distance." 1 LD = 384,401 km, the distance between Earth and the Moon. 1 LD also equals 0.00256 AU. MAG is the visual magnitude of the asteroid on the date of closest approach.

| | |
| --- | --- |
| | Cosmic Rays in the Atmosphere |

SOMETHING NEW! We have developed a new predictive model of aviation radiation. It's called E-RAD--short for Empirical RADiation model. We are constantly flying radiation sensors onboard airplanes over the US and and around the world, so far collecting more than 22,000 gps-tagged radiation measurements. Using this unique dataset, we can predict the dosage on any flight over the USA with an error no worse than 15%.

E-RAD lets us do something new: Every day we monitor approximately 1400 flights criss-crossing the 10 busiest routes in the continental USA. Typically, this includes more than 80,000 passengers per day. E-RAD calculates the radiation exposure for every single flight.

The Hot Flights Table is a daily summary of these calculations. It shows the 5 charter flights with the highest dose rates; the 5 commercial flights with the highest dose rates; 5 commercial flights with near-average dose rates; and the 5 commercial flights with the lowest dose rates. Passengers typically experience dose rates that are 20 to 70 times higher than natural radiation at sea level.

To measure radiation on airplanes, we use the same sensors we fly to the stratosphere onboard Earth to Sky Calculus cosmic ray balloons: neutron bubble chambers and X-ray/gamma-ray Geiger tubes sensitive to energies between 10 keV and 20 MeV. These energies span the range of medical X-ray machines and airport security scanners.

Column definitions: (1) The flight number; (2) The maximum dose rate during the flight, expressed in units of natural radiation at sea level; (3) The maximum altitude of the plane in feet above sea level; (4) Departure city; (5) Arrival city; (6) Duration of the flight.

SPACE WEATHER BALLOON DATA: Approximately once a week, Spaceweather.com and the students of Earth to Sky Calculus fly space weather balloons to the stratosphere over California. These balloons are equipped with radiation sensors that detect cosmic rays, a surprisingly "down to Earth" form of space weather. Cosmic rays can seed clouds, trigger lightning, and penetrate commercial airplanes. Furthermore, there are studies ( #1, #2, #3, #4) linking cosmic rays with cardiac arrhythmias and sudden cardiac death in the general population. Our latest measurements show that cosmic rays are intensifying, with an increase of more than 18% since 2015:

The data points in the graph above correspond to the peak of the Reneger-Pfotzer maximum, which lies about 67,000 feet above central California. When cosmic rays crash into Earth's atmosphere, they produce a spray of secondary particles that is most intense at the entrance to the stratosphere. Physicists Eric Reneger and Georg Pfotzer discovered the maximum using balloons in the 1930s and it is what we are measuring today.

En route to the stratosphere, our sensors also pass through aviation altitudes:

In this plot, dose rates are expessed as multiples of sea level. For instance, we see that boarding a plane that flies at 25,000 feet exposes passengers to dose rates ~10x higher than sea level. At 40,000 feet, the multiplier is closer to 50x.

The radiation sensors onboard our helium balloons detect X-rays and gamma-rays in the energy range 10 keV to 20 MeV. These energies span the range of medical X-ray machines and airport security scanners.

Why are cosmic rays intensifying? The main reason is the sun. Solar storm clouds such as coronal mass ejections (CMEs) sweep aside cosmic rays when they pass by Earth. During Solar Maximum, CMEs are abundant and cosmic rays are held at bay. Now, however, the solar cycle is swinging toward Solar Minimum, allowing cosmic rays to return. Another reason could be the weakening of Earth's magnetic field, which helps protect us from deep-space radiation.

| | |
| --- | --- |
| | The official U.S. government space weather bureau |

| | |
| --- | --- |
| | The first place to look for information about sundogs, pillars, rainbows and related phenomena. |

| | |
| --- | --- |
| | Researchers call it a "Hubble for the sun." SDO is the most advanced solar observatory ever. |

| | |
| --- | --- |
| | 3D views of the sun from NASA's Solar and Terrestrial Relations Observatory |

| | |
| --- | --- |
| | Realtime and archival images of the Sun from SOHO. |

| | |
| --- | --- |
| | from the NOAA Space Environment Center |

| | |
| --- | --- |
| | fun to read, but should be taken with a grain of salt! Forecasts looking ahead more than a few days are often wrong. |

| | |
| --- | --- |
| | from the NOAA Space Environment Center |

| | |
| --- | --- |
| | the underlying science of space weather |

| | |
| --- | --- |
| | If you are a Youtuber and want to buy real Youtube views than try out Buyrealsocial.com for the best results possible! |

| | |
| --- | --- |
| | To find reviews of new online casino sites in the UK try The Casino DB where there are hundreds of online casino reviews complete with bonuses and ratings. |

| | |
| --- | --- |
| | These links help Spaceweather.com stay online. Thank you to our supporters! |