| | | |
| --- | --- | --- |
| Turn your cell phone into a field-tested satellite tracker. Works for Android and iPhone. | | |
VOLCANIC SUNSETS: Sky watchers in northern Europe should be alert for unusual sunsets as ash from Iceland's Grimsvotn volcano drifts through their part of the world. Spaceweather.com reader Vincint Phillips sends this example from Hale village near Liverpool, UK.
COMET FIREBALL: Residents of Atlanta, Georgia, and surrounding areas were startled on Friday night, May 20th around 10:47 EDT, when an object brighter than a full Moon streaked across the southern sky. "It appears to have been a disintegrating piece of comet," reports Bill Cooke of NASA's Meteoroid Environment Office. In a 1/3-speed video, recorded by a NASA fireball camera at the Tellus Science Museum in Cartersville, GA, fragments can be seen flying away from the bright exploding core.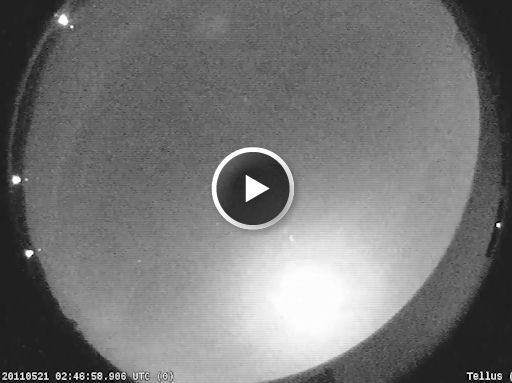 Videos: full speed, 1/3 speed. Having troubles? Try Realplayer.
Using data from multiple cameras, Cooke was able to triangulate the fireball's flight path. "Before it hit Earth, this object was in an orbit much like that of Halley's Comet." That doesn't mean the fireball came from Halley's Comet itself, but rather that it belongs to the Halley Family. Cooke continues: "This icy, fragile object was about 2 meters wide, hit the atmosphere at a speed of 38.5 km/s (86,000 mph), and completely disintegrated about 60 km above ground." Observers along the ground track reported bright blue-green flashes, luminous sparkles, and distinct fireball-shadows. "It was the brightest event we've seen in the three year history of our meteor network," adds Cooke.
The comet-chunk broke into at least four fragments. Cooke is analyzing the dynamics of each one to learn more about the parent body and to find out if any pieces might have reached the ground. Stay tuned for updates.
THE SOLAR LIMB: "Despite the low sunspot number and weak flare activity, there is some action on the sun," reports amateur astronomer John Chumack of Dayton, Ohio. "I watched this forest of prominences grow over most of the day on May 23rd." (continued below)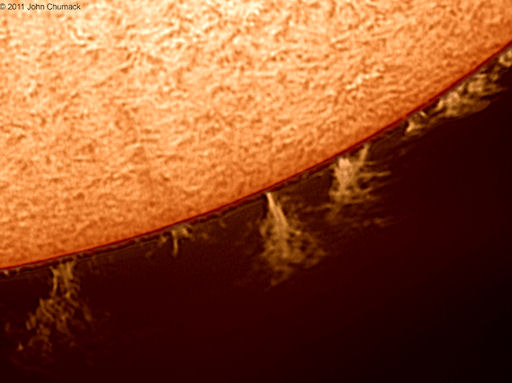 Photo details: Lunt 60mm/50F H-Alpha solar telescope, DMK 21AF04 Fire-wire camera, 2x Barlow
"The solar limb is looking great," he says.
Indeed, it is. Today, NASA's Solar Dynamics Observatory is monitoring an even bigger plume of magnetized plasma rising over the sun's eastern horizon: image. These massive structures form without the aid of sunspots and can even produce their own flares if they collapse and fall to the stellar surface below. Readers with solar telescopes are encouraged to monitor developments.
more images: from Peter Desypris of Athens, Greece; from Cai-Uso Wohler of Bispingen, Germany; from Jesus Pelaez of Burgos, Spain
---
April 2011 Aurora Gallery
[previous Aprils: 2010, 2009, 2008, 2007, 2006, 2005, 2004, 2003, 2002]