SPACE STATION FLYBYS: If you see a spaceship tonight, it's not your imagination. The International Space Station is flying over many US towns and cities this week. It's brighter than any star, easy to see, the only trick is knowing when to look. Check the Simple Satellite Tracker for flybys.
SOLAR ACTIVITY: "Finally, the sun seems to be waking up," says astrophotographer Pete Lawrence. "There is a lot going on around new sunspot 1026. The spot's dark core is surrounded by active fibrils and a swirling magnetic filament that gives the region a nice 3D appearance." He took this picture using a Solarscope SF70: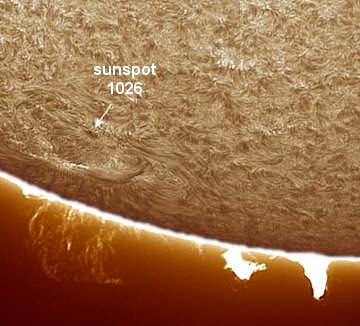 "Moreover," he adds, "a second sunspot has appeared, number 1027, and it is growing rapidly."
Two big sunspots in one day? That hasn't happened in more than a year. Two is not enough to end the deepest solar minimum in a century; nevertheless, it is a welcome interruption. Readers with solar telescopes are encouraged to monitor developments.
more images: from Chin Wei Loon of As-syams Solar Observatory, University of Malaya, Malaysia; from Adrian Guzman of San Jose, California; from Guenter Kleinschuster of Feldbach, Austria; from Vahan Yeterian of Lompoc, California; from John C McConnell of Maghaberry Northern Ireland; from Francisco A. Rodriguez of Cabreja Mountain Observatory, Canary Islands; from Peter Paice of Belfast, Northern Ireland;
AUTUMN LIGHTS: Northern autumn has begun, and that means it's aurora season around the poles. "Last night, the Northern Lights returned to our arctic skies," reports Claus Vogel of Baffin Island, Canada. "After a summer dominated by the midnight sun, it was good to see the autumn lights again."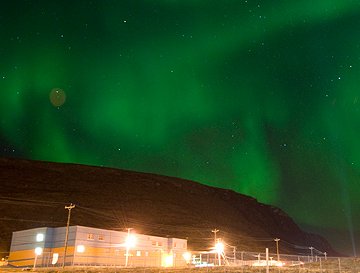 The display was sparked by a mild gust of solar wind. At this time of year, a mild gust is all it takes. During the weeks around equinoxes, the interplanetary magnetic field (IMF) near Earth tends to tilt south, an orientation that weakens our planet's magnetic defenses against the solar wind. The slightest gust can produce a lovely show.
"I'm looking forward to more dancing lights in the weeks ahead," says Vogel.
Sept. 2009 Aurora Gallery
[previous Septembers: 2008, 2007, 2006, 2005, 2004, 2002, 2001]
---