SOLAR WIND LOSING POWER: .In a briefing today at NASA headquarters, solar physicists announced that the solar wind is losing pressure, hitting a 50-year record low for the Space Age. This development has repercussions across the solar system. Get the full story from Science@NASA.
FAKE MOON OF JUPITER: Got a backyard telescope? Tonight, point it at Jupiter. The giant planet is passing mere arcminutes from a 6th magnitude star in Sagittarius, creating the illusion of an extra moon. See if you can distinguish the genuine satellites from the imposter: sky map.
NEW SUNSPOT: A new sunspot is emerging in the sun's northern hemisphere. After several months of almost-relentlessly blank suns, "this is like a breath of fresh plasma," says photographer Pete Lawrence who sends this picture from Selsey, UK: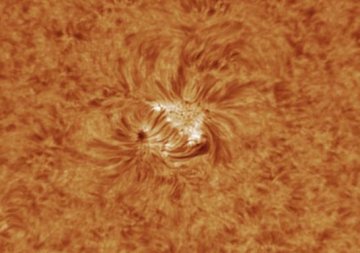 The magnetic polarity of the emerging spot identifies it as a member of new Sunspot Cycle 24. Because the year 2008 has brought so many blank suns, some observers have wondered if we are ever going to climb out of the ongoing deep solar minimum. This new sunspot is an encouraging sign that the 11-year solar cycle is indeed progressing, albeit slowly.
more images: from Paul Maxson of Surprise, Arizona; from N. Hebert et al. of South Portland, Maine; from Didier Favre of Brétigny sur Orge, France; from Robert Arnold of Isle of Skye, Scotland; from Adrian Guzman of San Jose, California; from Dave Gradwell of Birr, Ireland; from Peter Paice of Belfast, Northern Ireland; from Stuart Thomson of Melbourne, Australia;
SIGHTINGS: "Last night (Sept. 22), I watched as the International Space Station (ISS) chased Jules Verne across the sky," reports photographer Rick Stankiewicz of Ontario, Canada. "This sequence of images shows them rising in the west over my backyard at about 8:52 pm local time."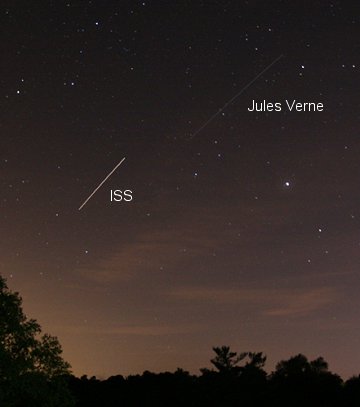 "I was lucky to have caught these two spacecraft in the same field of view," he says. "Until recently they were separated in their orbits by several minutes, but now they appear to be converging and are within 30 seconds of one another. My goal was to capture a shot of the Jules Verne before it is destroyed forever on Sept. 29th when ESA mission controllers command it to re-enter Earth's atmosphere over the south Pacific Ocean."
The convergence of the two spacecraft is a deliberate maneuver, putting ISS astronauts in good a position to witness Jules Verne's reentry and fiery destruction. Researchers on two NASA aircraft will be watching, too. Stay tuned for fireball pictures!
Until then, you the reader may be able to see Jules Verne gliding over your own backyard with ISS in hot pursuit. Check the Satellite Tracker for viewing times.
more images: from Joe Ricci of Rochester, New York; from Matthew Cook of Ann Arbor, Michigan; from Phillip Chee of South Monaghan, Ontario, Canada; from Joe Ricci of Rochester, New York; from Günther Strauch of Borken, NRW, Germany; from Steve Beckle of Aurora, Illinois;
---
Sept. 2008 Aurora Gallery
[Aurora Alerts] [Night Sky Cameras]