| | | |
| --- | --- | --- |
| They came from outer space--and you can have one! Genuine meteorites are now on sale in the Space Weather Store. | | |
SOLAR WIND CONTINUES BLOWING: For the second day in a row, a fast stream of solar wind is blowing around Earth. NOAA forecasters estimate a 30% chance of polar geomagnetic storms on June 23rd in response to the buffeting. Aurora alerts: text, voice.
WEEKEND SUPERMOON: This weekend's full Moon is a "supermoon," as much as 14% bigger and 30% brighter than other full Moons of 2013. Last night, Alan Dyer photographed the swollen orb rising over the prairie in Gleichen, Alberta, Canada: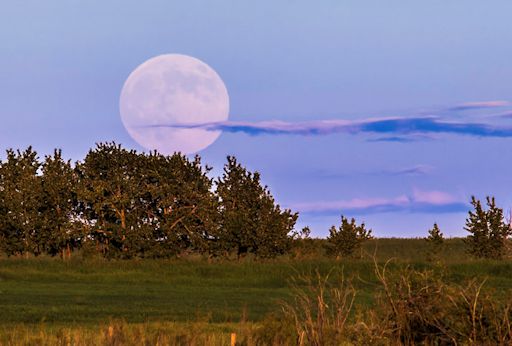 "After several days of torrential rain that brought horrific floods to many parts of southern Alberta, we were finally able to enjoy a clear night and the sight of the wonderful 'supermoon' rising," says Dyer. "[It] reminded us that the sky brings beauty as well as destruction.
The scientific term for the phenomenon is "perigee moon." Full Moons vary in size because of the oval shape of the Moon's orbit. The Moon follows an elliptical path around Earth with one side ("perigee") about 50,000 km closer than the other ("apogee"). Full Moons that occur on the perigee side of the Moon's orbit seem extra big and bright.
On June 23rd, the Moon becomes full at 11:34 UT, only 23 minutes after it reaches perigee. This near-perfect coincidence makes the Moon "super."
It's true that a perigee full Moon brings with it extra-high "perigean tides," but according to the National Oceanic and Atmospheric Administration this is nothing to worry about. In most places, lunar gravity at perigee pulls tide waters only a few centimeters (an inch or so) higher than usual. Local geography can amplify the effect to about 15 centimeters (six inches). The much greater flooding in Calgary was caused by rainfall, not by the perigee moon.
CHINESE SPACE STATION CROSSES THE SUN: Earlier this week in the sunny skies above the south of France, China's experimental Tiangong-1 space station flew directly in front of the sun. Using a filtered 6-inch telescope, astrophotographer Thierry Legault recorded the station's silhouette alongside big sunspot AR1775: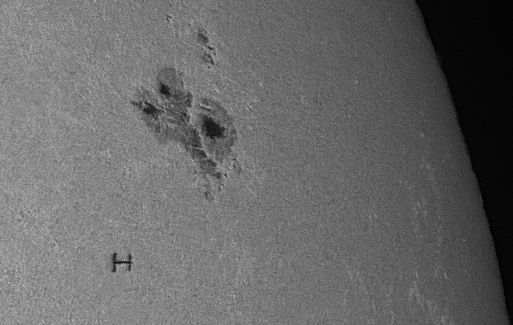 "I recorded two transits--one on June 16 and another on June 17th," says Legault. "They show the Tiangong-1 with 3 taikonauts inside."
Most readers are familiar with the 450-ton International Space Station. Fewer, perhaps, know about China's 8.5-ton Tiangong-1 (Heavenly Palace-1). It was launched in Sept. 2011 to establish a foothold in Earth orbit for China's fledgling space program. Tiangong-1 was briefly boarded by taikonauts (Chinese astronauts) in June 2012, and a second group is onboard now. Three Taikonauts arrived on June 13, 2013, on a 15-day mission to practice rendevous and docking maneuvers and to gain experience living in space. Their expedition is attracting little attention in Western press, but it is being widely followed in China. Earlier this week, more than 60 million students and teachers at 80,000 Chinese schools watched a live lecture by the crew of the Tiangong-1.
According to some reports, the Tiangong-1 will be de-orbited in late 2013 to make way for more advanced experimental stations, Tiangong-2 and Tiangong-3 in the years ahead. Ultimately, China hopes to place an Mir-class station in orbit by 2020.
See the Tiangong-1 before it goes! Spaceweather's Simple Flybys app turns your smartphone into a field-tested space station tracker. It works for both the ISS and the Tiangong-1.
Realtime Space Weather Photo Gallery
SOLSTICE SOLAR FLARE: The northern summer solstice began with a bang. On June 21st at 03:16 UT, sunspot AR1777 produced a long-duration M2-class solar flare. NASA's Solar Dynamics Observatory photographed the flare's extreme ultraviolet flash and a plume of material flying out of the blast site: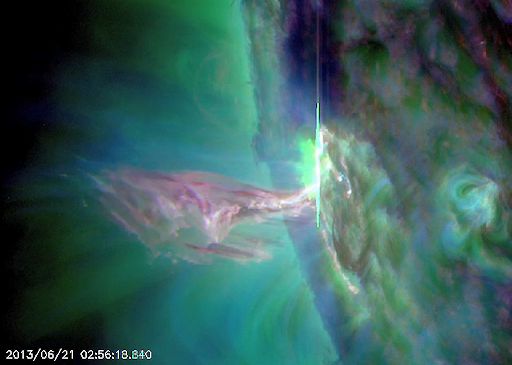 As sunspots go, AR1777 is neither large nor apparently menacing, yet it has been crackling with flares for days. Before it rotated over the sun's eastern limb on June 20th, it unleashed a series of farside flares and CMEs. The solstice explosion was not Earth directed, but future explosions could be as the sun's rotation continues to turn AR1777 toward our planet. NOAA forecasters estimate a 30% chance of M-flares and a 5% chance of X-flares during the next 24 hours. Solar flare alerts: text, voice.
---
Realtime Noctilucent Cloud Photo Gallery
[previous years: 2003, 2004, 2005, 2006, 2007, 2008, 2009, 2011]
---
---