| | | |
| --- | --- | --- |
| FLYBY ALERT! Would you like a phone call when the International Space Station (ISS) is about to fly over your back yard? Sign up for Space Weather PHONE. | | |
SOLAR CINEMA: On April 9th an enormous solar prominence erupted, sending twisted curls of magnetized plasma billowing away from the edge of the sun. NASA's STEREO spacecraft was watching and has beamed a movie of the blast back to Earth. Enjoy the show: 6 MB Quicktime, 3 MB mpeg, 110 kB snapshot.
GREEN SKY ALERT: Sky watchers around the Arctic Circle should be alert for auroras tonight. A solar wind stream is buffeting Earth's magnetic field and causing high-latitude geomagnetic storms. Yuichi Takasaka sends this picture from Lumby, British Columbia: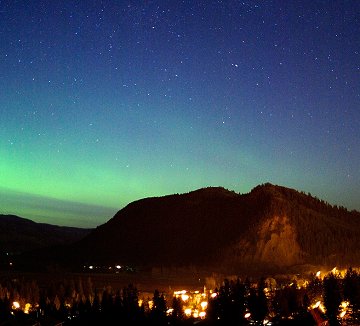 "I went outside to try out my telescope's new equatorial mount and found these green lights overhead," says Takasaka. Indeed, it often pays to look for green among the stars at this time of year. Why? Because spring is aurora season.
April 2008 Aurora Gallery
[Aurora Alerts] [Night-sky Cameras]
LUNAR FOGBOW: Amateur astronomer Krzysztof Polakowski woke up before dawn on April 21st to photograph the Lyrid meteor shower. It was a beautiful moonlit night in Gniewowo, Poland, with just one problem: a bank of fog rolled in and hid the sky. With little to do, Krzysztof fell asleep.
"Later, when I opened my eyes, I saw a strange light right in front of me. It had the shape of a rainbow, but very pale." He took this picture using his Nikon D70s: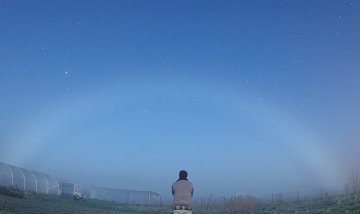 Photo details: Nikon D70s, 25 s, ISO 1600, Zenitar 2.8 16mm, f/4.0
"Wow! What is this?" he asks.
Atmospheric optics expert les Cowley answers: "It is a lunar fogbow. Fogbows are like rainbows but made by light refracted through tiny fog droplets rather than large raindrops. They are broad, ghostly and almost colorless."
To see a lunar fogbow, you'll need a foggy, moonlit night. Go outside, face the moon, then spin around and look behind you. That's where the 'bow will be. "A golden rule of atmospheric optics is whenever there is something interesting in the sky check out the opposite direction," says Cowley. "You could find a rarity."
---