SOLAR WIND RIPS MARS: The solar wind appears to be ripping big chunks of air from the atmosphere of Mars. This could help solve a longstanding mystery about the Red Planet: full story.
LEONID OUTBURST: Just as predicted, the Leonid meteor shower surged during the early hours of Nov. 17th. "Earth passed through a filament of debris shed by parent comet 55P/Tempel-Tuttle in the year 1466," says forecaster Jérémie Vaubaillon of Caltech. The result was a sharp flurry of meteors numbering almost 90 per hour. "In Slovakia, we saw many bright and quick Leonids during the peak," reports Roman Piffl. Here is one of them over the town of Marianka: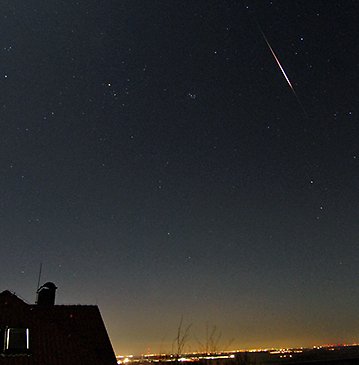 Photo details: Nikon D200, 800 ASA, 30s exposure
Onlookers in eastern Europe and Asia, where rates were highest, say the flurry was rich in bright meteors. "Most were in the magnitude range -3 to +3 magnitude," says Juraj Toth of Modra, Slovakia: photos. "One fireball was about magnitude -8!"
Vaubaillon's model for the 1466 debris stream predicted an abundance of large particles--hence the bright display. "These results show that when the orbit of a comet is well-known, the prediction of meteor showers can be very precise and reliable," he says. "Comet 55P was first observed in 1366 making the orbit well constrained even for an epoch such as 1466."
more images: from Chris Peterson of Guffey, Colorado; from Bob Johnson of Saskatoon, Saskatchewan; from Sietse Dijkstra of Lattrop, Overijssel, The Netherlands;
FALSE AURORAS: Warning: Not all northern lights are aurora borealis. Consider the following display of "false auroras" over Ambler, Pennsylvania, on Nov 19th: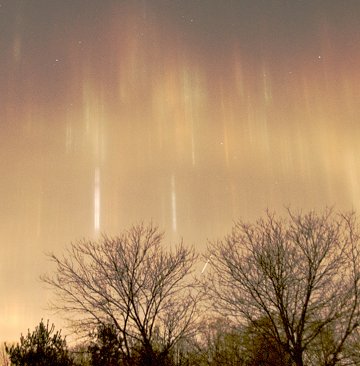 Photo details: Nikon D200, ISO 1600, f5, 10s exposure
"Luminous vertical spikes emanated down from all areas of the sky," reports photographer Herman Fala. "They looked like Northern Lights, but did not seem to be moving or shimmering as I expected auroras to do." Furthermore, solar activity was low and no geomagnetic storm was in progress at the time of the display.
What Fala witnessed was an apparition of urban light pillars. Plate-shaped ice crystals flutter down from high clouds and intercept the rays of unshielded city lights, creating an aurora-like display that truly has nothing to do with auroras. Light pillars are beautiful but they are also a sign of spreading light pollution that threatens to wipe genuine auroras (and stars and planets and comets) out of the night sky forever. Enjoy them, but also be mindful of their dark significance.
High-latitude sky watchers should be alert for real auroras next week. A solar wind stream is heading for Earth and it could spark geomagnetic storms when it arrives on Nov. 25th.
Nov. 2008 Aurora Gallery
[Previous Novembers: 2007, 2006, 2004, 2003, 2001, 2000]