MYSTERIOUS COSMIC RAYS: An international team of researchers has discovered a puzzling surplus of high-energy electrons bombarding Earth from space. The source of these cosmic rays is unknown, but it must be close to the solar system and it could be made of dark matter: full story.
AURORA WATCH: On Nov. 9th, flying photographer Brian Whittaker was 35,000 feet over the Arctic Circle when he looked out the window of his airplane and saw this: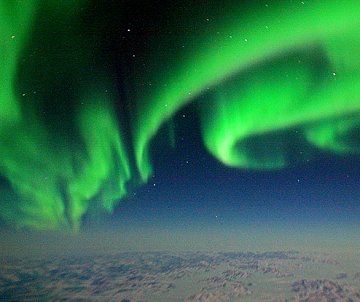 "For several hours I had experienced a good display of dynamic green auroras," says Whittaker. "The best view was when we neared the coast of Greenland. Snow-capped peaks and glaciers were easily visible in the bright moonlight while auroras danced overhead."
It's time to book another flight. On Nov. 24th or 25th, a solar wind stream will hit Earth and probably spark a new round of Northern Lights. High-latitude sky watchers should be alert for auroras.
UPDATED: Nov. 2008 Aurora Gallery
[Previous Novembers: 2007, 2006, 2004, 2003, 2001, 2000]
INCREDIBLE SKY: Imagine standing outside after dark, head inclined to the heavens, watching two planets rush together on an apparent collision course--when suddenly a massive spacecraft splits the sky. Incredible? Not at all. It happened just last night to Justin Cowart of Carbondale, Illinois: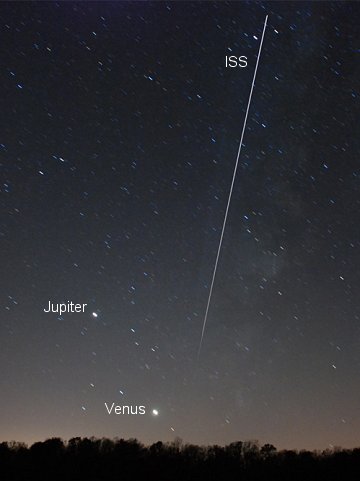 Photo details: Nikon D80, 155 second exposure, ISO 1000
"The ISS was a gleaming white color, almost as if it were a spark of burning magnesium," says Cowart. "As the space station ascended into Earth's shadow, the white became contaminated with a coppery orange and then it turned a deep, angry red just before disappearing completely in the vicinity of Deneb."
The ISS is making a series of evening flybys over North America this week, appearing in the same part of the sky as converging planets Venus and Jupiter. As incredible as Cowart's experience sounds, lots of people are seeing the same thing. Could you be next?
more images: from Brian Emfinger of Ozark, Arkansas; from Shannon Story of Weatherford, Texas; from Robert Jeffers of Virginia Beach, Virginia; from Becky Ramotowski at Route 66 Elementary School, Edgewood, New Mexico;
Sky maps: Nov. 20, 21, 22, 23, 24, 25, 26, 27, 28, 29, 30, Dec 1.
---
UPDATED: Nov. 2008 Aurora Gallery
[Previous Novembers: 2007, 2006, 2004, 2003, 2001, 2000]