SOLAR ACTIVITY: A big show is underway on the sun today. Two massive prominences are dancing along the northwestern limb with such allure that the Solar and Heliospheric Observatory (SOHO) has boosted its frame-rate to capture the motions. Stay tuned for movies, and meanwhile, keep an eye on the sun.
POSSIBLE IMPACT EVENT ON JUPITER: Did something just hit Jupiter? On July 19th, a black "scar" appeared in Jupiter's clouds similar to the Shoemaker-Levy 9 impacts of 1994. Veteran Jupiter observer Anthony Wesley photographed the feature from his observatory in Murrumbateman, Australia:
"The jet-black mark is near Jupiter's south pole (south is up in the image)," says Wesley. "I have imagery of that same location from two nights earlier without the impact mark, so this is a very recent event. The material has already begun to spread out in a fan shape on one side, and should be rapidly pulled apart by the fast jetstream winds. I recorded a lot of footage, and will be generating more images and a rotation animation soon."
Amateur astronomers around the world should train their telescopes on Jupiter tonight to monitor the progress of this possible impact event: sky map. Stay tuned for more images and updates.
more images: from Ian Sharp of Ham, West Sussex, England, UK; from David Kolb of Lawrence, Kansas; from David Storey of Isle of Man, Great Britain; from Frank Ryan Jr of Shannon, Ireland; from Russell Hawker of Eastleigh, Hampshire; from Lars Zielke of Tvis, Denmark
NOCTILUCENT CLOUDS: Noctilucent clouds are brightening again over Europe. "This morning we had a fantastic display--possibly the best of the year so far," reports John Houghton of Leicester UK. He snapped this photo using a Nikon D700: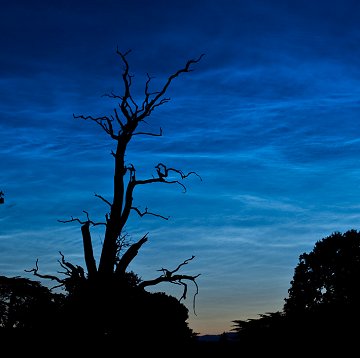 The display was vivid electric-blue and included some unusual forms. "They reminded me of a great whale swimming across the sky," remarks eyewitness Peter Vasey of Hexham UK.
When a similar display materialized over Europe last week, the clouds quicky spread across the Atlantic, appearing in the USA as far south as Utah, Colorado, northern California and Nevada. Could it happen again tonight? Browse the photo gallery for observing tips:
UPDATED: 2009 Noctilucent Photo Gallery
[previous years: 2008, 2007, 2006, 2005, 2004, 2003]
---