AURORA SPRING: The first day of northern Spring could end with a display of Northern Lights. A solar wind stream is expected to hit Earth on March 20th, and the impact could trigger geomagnetic activity around the Arctic Circle. High-latitude sky watchers should be alert for auroras: gallery.
NEAR THE EDGE OF THE SUN: Imagine looking up at noon and seeing a planet with four moons just 0.1o from the edge of the blinding sun. Impossible? NASA's STEREO-B spacecraft did it this week. Click on the image below to launch a movie of Jupiter and the Galilean satellites in close "solar conjunction."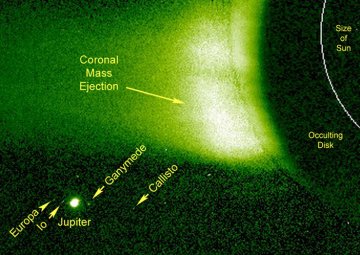 5 MB Quicktime movie | labeled still frame | Zoom in on Jupiter
During the 30-hour movie, Io, Europa, Ganymede and Callisto circle Jupiter as a massive CME billows overhead. STEREO-B recorded the action on March 15th and 16th using an occulting disk to block the solar glare. This arrangment allowed STEREO's cameras to photograph moons of Jupiter eight thousand billion (8x1012) times dimmer than the adjacent sun.
STEREO's coronagraph (occulting disk+camera) is designed to monitor faint but powerful activity in the sun's outer atmosphere. The CME is a good example. With a limiting magnitude of +6.5, it can also see stars, planets, moons and comets so close to the edge of the sun, it seems impossible. In fact, it happens all the time. Browse the STEREO gallery for examples.
GREAT HALOS: On March 18th, a bank of icy cirrus clouds drifted over Strasbourg, France. At first, it looked like just another cloudy day--ho, hum. And then the halos appeared. "There was an amazing outburst of colorful arcs and rings around the sun," says onlooker Herfried Eisler. The display was so big, he had to use a fisheye lens to catch it all:
He also created a horizontal 360o panorama; it is a must see.
Eisler marveled at the diversity: "I saw a 22° halo, a pair of sundogs, a cirumscribed halo, a parry arc, a parhelic circle, upper and lower tangent arcs, infra- and superlateral arcs, a 180° anthelion, some bright 46° arc fragments, faint 120° parhelions, and two rare Wegeners anthelic arcs."
According to atmospheric optics expert Les Cowley, "this wonderful variety of halos was created by sunlight shining through one basic type of ice crystal--the hexagonal ice prism." Hexagonal ice prisms can take the form of short, fat plates or long, thin columns; when these forms are aligned in no more than five different ways, they can account for all of the things Eisler saw.
The clouds that made the French halos on March 18th were also present over other parts of Europe. Click on the links for more images: from Eva Seidenfaden of Trier, Germany; from Andreas Walker of Hallwil, Switzerland; from Herfried Eisler of Strasbourg, France; from Yvette Cendes of Kitzbuhel, Austria
---
March 2009 Aurora Gallery
[previous Marches: 2008, 2007, 2006, 2005, 2004, 2003, 2002]
---
Comet Lulin Photo Gallery
[Comet Hunter Telescope: review] [Comet Lulin finder chart]
---