| | | |
| --- | --- | --- |
| Where's Saturn? Is that a UFO--or the ISS? What's the name of that star? Get the answers from mySKY--a fun new astronomy helper from Meade. | | |
AURORA SEASON: What are the signs of spring? They are as familiar as a blooming Daffodil, a songbird at dawn, a surprising shaft of warmth from the afternoon sun. And, oh yes, don't forget the aurora borealis. Spring is aurora season. For reasons not fully understood by scientists, the weeks around the vernal equinox are prone to Northern Lights: full story.
SOLAR CYCLE UPDATE: 2008 has been a year of few sunspots and mostly blank suns. A solar cycle update just released by NASA solar physicist David Hathaway shows why. We are experiencing the lowest ebb of solar minimum: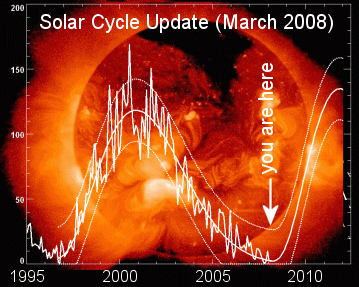 In the plot, the noisy curve is the International Sunspot Number measured by a worldwide network of solar observers. The smoothed curves are predictions for the future. We see that sunspot numbers may remain low for many months to come before beginning a rapid ascent in early 2009 toward the next solar maximum. It's something to look forward to. Meanwhile, stay tuned for quiet.
THREE RED SPOTS: How many red spots does Jupiter have? On March 17th, Mike Salway of Australia looked through his 12-inch telescope and counted three: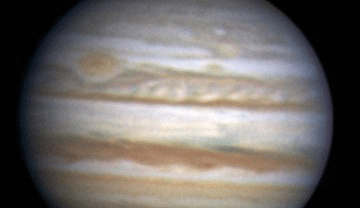 Red spot #1 is the Great Red Spot you've heard about, hundreds of years old and twice as wide as Earth. Red spot #2 is Oval BA, which formed white in 2000 and turned red in 2006. Red spot #3 is a newcomer, "the Little Red Spot," says Salway, possibly only weeks old.
All these spots are storms--anticyclones big enough to swallow a rocky planet. What makes them red? Curiously, no one knows why the Great Red Spot itself is red. A favorite idea is that the storm dredges "chromophores" (color-changing compounds) from deep inside Jupiter up to the cloudtops where sunlight triggers a chemical reaction with red by-products. But what are the chromosphores and what is the chemical reaction? It's a mystery--now multiplied by three.
Jupiter is emerging from the glare of the sun as a bright morning star, visible in the southeast before sunrise: sky map. "I'm still waiting for some 'excellent' morning to deliver the best resolution and detail," says Salway, "but as Jupiter keeps climbing I'm sure it will come soon."