MYSTERY OF THE MISSING SUNSPOTS: Where have all the sunspots gone? Scientists studying a jet stream deep inside the sun may have found the answer. Get the full story from Science@NASA.
NOCTILUCENT MADNESS: "Last night, I saw the noctilucent cloud display of a life time," reports veteran observer Martin McKenna of Northern Ireland. "It looked like the end of the world! The shadow-casting structures which illuminated the countryside were absolutely breathtaking." Here is one of the "hundred or so" pictures he took: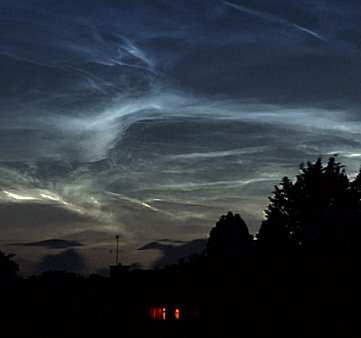 "Large loops, whirls and pillars with knots could be seen moving rapidly in real time; there were astounding silver and blue colours mixed with subtle yellow, gold and green. It was a sight that left me awestruck. This is the best NLC season I have ever experienced!"
These intense displays could be related to sunspots--or lack thereof. For reasons no one fully understands, NLCs tend to be most active during years of solar minimum. 2009 is such a year. The sun is in the pits of the deepest solar minimum in nearly a century, and many researchers expect a banner season for these mysterious clouds.
UPDATED: Noctilucent Photo Gallery
[previous years: 2008, 2007, 2006, 2005, 2004, 2003]
MOON ROCKET: NASA is heading back to the Moon. On June 18th, an Atlas V rocket roared away from the Kennedy Space Center carrying not one but two spacecraft: the Lunar Crater
Observation and Sensing Satellite (LCROSS) and the Lunar Reconnaissance Orbiter (LRO). Photographer Ben Cooper was on hand to capture this image: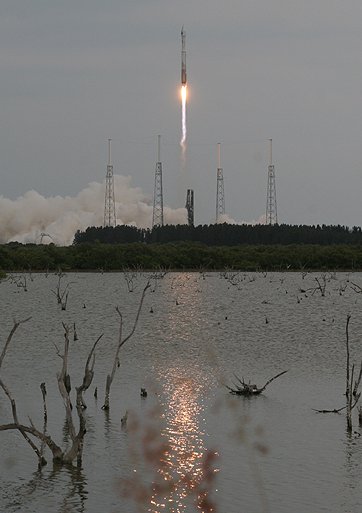 Both spacecraft are on missions of lunar discovery--but that's where the similarities end. LCROSS will destroy itself in a violent collision with the Moon at approximately 7:30 a.m. on Oct. 9, 2009, creating a debris plume that will be analyzed for the presence of water and hydrocarbons. Meanwhile, LRO will orbit the Moon at a low altitude of about 31 miles for at least a year. The spacecraft's seven scientific instruments will hunt for water, map the Moon's surface in 3D, assess the radiation environment for future explorers, and much more.
Stay tuned for updates and further instructions on how amateur astronomers may be able to observe the destruction of LCROSS.
---