Where's Saturn? Is that a UFO--or the ISS? What's the name of that star? Get the answers from mySKY--a fun new astronomy helper from Meade. .

HANDS ON THE SUN: The 7th annual HOTS conference for solar observers and photographers is taking place this year in Irvine, California, Oct. 4th-6th. This is a great opportunity for novices to learn the art of solar photography from masters such as Gary Palmer and Paul Hyndman. In addition to hands-on training and the ever-popular Fiesta Under the Stars, the conference features a Mt. Wilson telescope tour led by comet hunter Dr. David Levy and a keynote speech ("Sizing Up the Next Solar Cycle") by spaceweather.com's Dr. Tony Phillips. Join us if you can!

PERUVIAN METEORITE: There is much discussion on the Internet today concerning a reported meteorite impact in Peru which may have gouged a 10- to 30-meter wide crater. Bad-smelling fumes from the crater are said to have sickened dozens and perhaps hundreds of people in a nearby village. Could this be true? (continued below)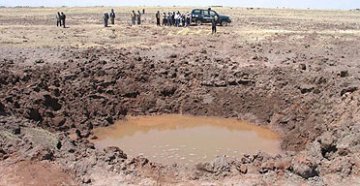 There is indeed a hole in the ground in Peru, pictured above, and by all accounts it smells bad, but it is not likely of cosmic origin. In order to blast a 30-meter crater, a meteorite would have to hit the ground with about as much energy as 1 kiloton of TNT--akin to a tactical nuclear weapon. This would leave a clear signal in worldwide seismic and infrasound records, but so far no such signals are being reported by authorities.
In short, we remain unconvinced. Stay tuned for updates.
TRILOBITES INVADE THE SUN: Last week in Boulder, Colorado, scientists converged on the "Living With A Star" workshop to share the latest research in solar physics. At one point, nearly 200 participants sat slack-jawed as they watched a new movie recorded by Japan's Hinode spacecraft showing a sunspot emerging from the depths of the sun: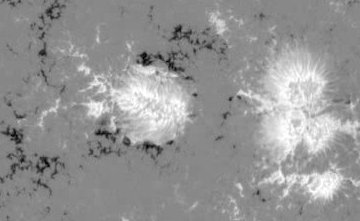 Click to launch the 19 MB movie.
According to some observers, the emerging spot resembled nothing less than a swimming planet-sized trilobite. The unexpected form and behavior of the sunspot is both a challenge and delight to researchers working to understand solar activity. Get the full story from Science@NASA.
---
September 2007 Aurora Gallery
[August 2007 Aurora Gallery] [Aurora Alerts]