| | | |
| --- | --- | --- |
| NEW AND IMPROVED: Turn your iPhone or iPod Touch into a field-tested global satellite tracker. The Satellite Flybys app now works in all countries. | | |
NORTHERN LIGHTS: Arctic sky watchers are waiting for the CME to hit. A coronal mass ejection that left the sun on March 14th should deliver a glancing blow to Earth's magnetic field sometime today. NOAA forcasters estimate a 30% chance of geomagnetic activity when the cloud arrives. Stay tuned for Northern Lights.
PROMINENCE, CONTINUED: For the second day in a row, astronomers are monitoring an enormous prominence rising over the northwestern limb of the sun. "Twenty-four hours after I first saw it, it is still alive and more monstrous (in a beautiful way) than ever," reports Alan Friedman, who sends this picture from his observatory in downtown Buffalo, New York: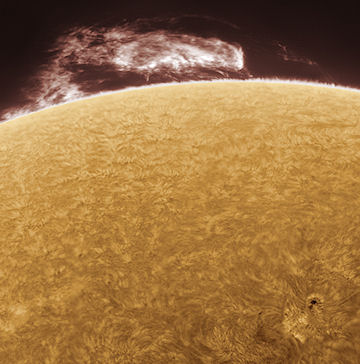 Note sunspot 1054 in the lower right corner
The magnificent arch stretches more than 20 Earth-diameters from end to end. Our planet would easily fit through any of the "little" plasma gaps evident in Friedman's photo. The size of the prominence makes it an easy target for backyard solar telescopes, and many observers say it is a mesmerizing sight as it surges and seethes through the eyepiece. Monitoring is encouraged.
more images: from Andy Yeung of Hong Kong; from Matthias Juergens of Gnevsdorf, Germany; from Andreas Murner of Rosenheim, Bavaria, Germany; from Britta Suhre of Rosenheim, Bavaria, Germany; from Peter Desypris of Athens, Grecce; from Stephen Ames of Hodgenville, KY; from G. Harmon and J. Stetson of South Portland, Maine; from John Boyd of Santa Barbara, CA; from Rainer Ehlert of San Luis Potosi, Mexico; from Nick Howes using the Faulkes Telescope North in Hawaii;
CRESCENT MOON : Yesterday, March 17th, nature artist Sally J. Smith of Wadhams, New York, created her last ice sculpture of the 2009-10 winter season. "I set it up before the sun went down and hoped it would be in good alignment to catch the crescent moon," she says. Indeed it was: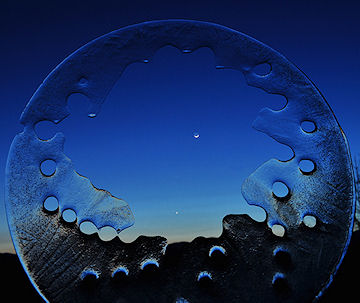 "The winds were warm and the sculpture melted faster than I anticipated, but in the end all was well. Even Venus made it into the scene. A few seconds later the top part of the sculpture fell off." And so winter comes to an end...
more crescents: from Doug Zubenel of Shawnee County, Kansas; from Mania Rahban of Kerman, Iran; from Jeff Berkes of West Chester, PA; from Vasilis Metallinos of Corfu, Greece; from Christopher Calubaquib of El Sobrante, California; from Dan Frissora of Rochester, MN; from P-M Hedén of Vallentuna, Sweden; from Stefano De Rosa of Meugliano Lake (Turin, Italy); from Elias Chasiotis of Keratea, Greece; from Giuseppe Pappa of Mascalucia, Sicily, Italy;
EQUINOX SKY SHOW: Northern Spring begins on Saturday, March 20th. To celebrate the occasion, Nature is putting on an equinox sky show. Look west after sunset for a close encounter between the crescent Moon and the Pleiades star cluster. It's a beautiful view, and a nice way to experience the equal night.
---
UPDATED: March Northern Lights Gallery
[previous Marches: 2009, 2008, 2007, 2006, 2005, 2004, 2003]