| | | |
| --- | --- | --- |
| Where's Saturn? Is that a UFO--or the ISS? What's the name of that star? Get the answers from mySKY--a fun new astronomy helper from Meade. | | |
LOOKING FOR SATURN? Tonight it's easy to find. Go outside after sunset, locate the Moon (you can't miss it), and note the golden star beside it. That "star" is Saturn. One quick slew takes your telescope from lunar craters to icy rings and back again--it's all good!
EXTRA: Science@NASA story: The Vanishing Rings of Saturn
LUNAR IMPACT: On March 13th, amateur astronomer George Varros of Mt. Airy, Maryland, was monitoring the dark limb of the Moon using his 8-inch Celestron telescope. With no warning, an explosion ensued: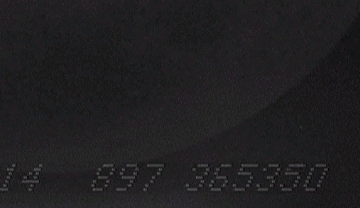 The flash in this short movie is a meteoroid hitting the Moon with about as much energy as ~100 kg of TNT. "This gives new meaning to 'shoot the Moon'," says Varros. "The flash was also seen by three NASA telescopes in Alabama and Georgia."
Since 2005, careful monitoring by astronomers at NASA's Meteoroid Environment Office has shown that space rocks hit the Moon with surprising regularity and the resulting flashes are visible in ordinary backyard telescopes. Varros has recorded three impacts this year alone.
The best time to look is during a meteor shower, but sometimes a random meteoroid associated with no known shower plummets to the ground. Such was the case on March 13th. "It seems to have been a sporadic meteor," says Varros. "It struck at lunar coordinates 78oW, 23oS, not far from crater Darwin."
Readers, are you ready to join the hunt? Start here.
MOON FINGERS: "A couple of nights ago, the sky was clear in Northern Ireland apart from some long fingers of cirrus cloud," reports photographer John C McConnell. "I watched as they passed in front of the Moon and this fragmented halo appeared."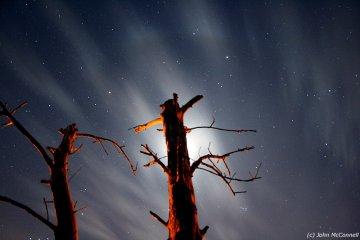 Photo details: Canon 400D, 18mm lens, 20 seconds
Moon halos, like better-known sun halos, are caused by ice crystals in high clouds. If the clouds are fragmented, so are the halos. "Later," continues McConnell, "the sky became uniformly hazy and indeed a full halo appeared."
The Moon is big and bright this week, which makes it a good time to watch for halos and their cousins, moondogs and pillars. "It always pays to keep an eye on the sky!"
more images: from Jeffrey Berkes of West Chester, PA; from Nicolai Wiegand of Germany, Schöningen; from D. Clark of Jonesville, VA; from Jesus Pelaez of Lodoso (Burgos) SPAIN;