| | | |
| --- | --- | --- |
| Metallic photos of the sun by renowned photographer Greg Piepol bring together the best of art and science. Buy one or a whole set. They make a stellar gift. | | |
JUPITER AND THE MOON: When the sun goes down tonight, step outside and look south. The Moon is passing Jupiter in the constellation Taurus. It's a pretty close encounter visible even through city lights. [sky map] [photos]
COMET PAN-STARRS UPDATE: Comet Pan-STARRS (C/2011 L4), widely expected to become a naked-eye object in early March, is now closer to the sun than Venus. Solar heating is vaporizing the comet's icy core and creating a wide, fan-shaped tail visible through binoculars in the southern hemisphere. Ignacio Diaz Bobillo sends this picture from Buenos Aires, Argentina: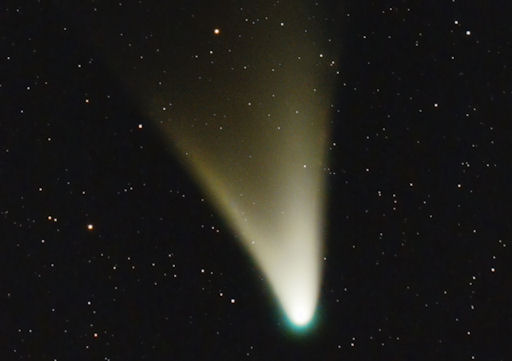 "I saw Comet Pan-STARRS just before daybreak in the constellation Grus," says Bobillo. "This is what it looked like through a small telescope, imaged with an exposure time of 8x2 minutes."
In early March, Comet Pan-STARRS will make its closest approach to the sun inside the orbit of Mercury; at that time it could brighten to easy naked-eye visibility. No one knows exactly what will happen, however, because it is a fresh comet being exposed to solar heating for the first time. Experts discuss the possibilities in this video from Science@NASA. More: 3D orbit, ephemeris, light curves, NASA story.
M-CLASS SOLAR FLARE: Yesterday, Feb. 17th, new sunspot AR1675 unleashed the most intense flare of the year so far, an M1.9-class explosion. NASA's Solar Dynamics Observatory captured a double-flash of extreme UV radiation from the explosion: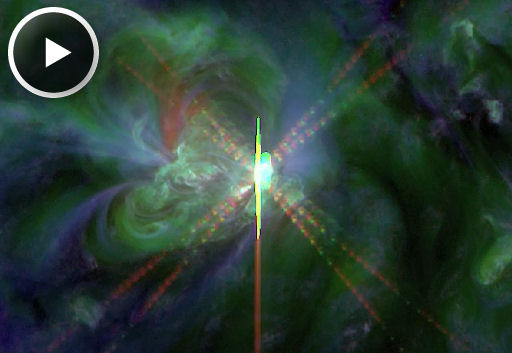 Coronagraph images from SOHO and the twin STEREO probes show that this explosion did not produce a coronal mass ejection (CME). Nevertheless, there were some Earth-effects. UV radiation from the flare produced a wave of ionization in Earth's upper atmosphere. Radio listeners in Europe and North America detected the sudden ionospheric disturbance. Solar flare alerts: text, voice.
Realtime Space Weather Photo Gallery
RUSSIAN METEOR UPDATE: On Friday, February 15th at 9:30 am local time in Russia, a small asteroid struck the atmosphere over the city of Chelyabinsk and exploded. According to reports from news organizations and Russian authorities, as many as 1000 people received minor injuries from the shock wave. This is the most energetic recorded meteor strike since the Tunguska impact of 1908.
Note: In the following paragraph, bold-faced numbers were updated on Feb. 17th to reflect new and improved estimates of the asteroid's size and energy. It was even bigger than we thought!
Researchers have conducted a preliminary analysis of the event. "Here is what we know so far," says Bill Cooke, head of NASA's Meteoroid Environment Office. "The asteroid was about 17 meters in diameter and weighed approximately 10,000 metric tons. It struck Earth's atmosphere at 40,000 mph (18 km/s) and broke apart about 12 to 15 miles (20 to 25 km) above Earth's surface. The energy of the resulting explosion was in the vicinity of 500 kilotons of TNT." (continued below)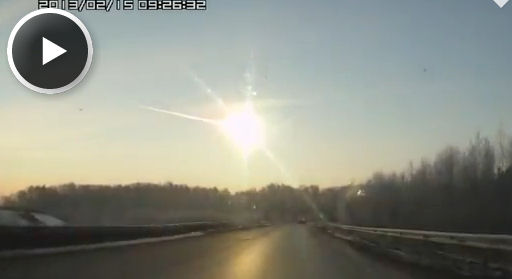 "A shock wave propagated down and struck the city below, causing large numbers of windows to break, some walls to collapse, and minor damage throughout the city," he continued. "When you hear about injuries, those are undoubtedly due to the effects of the shock wave, not due to fragments striking the ground. There are undoubtedly fragments on the ground, but as of this time we know of no recovered fragments that we can verify."
Videos of the event may be found here and here. In many of the videos you can hear the sound of windows shattering as the meteor's loud shock wave reaches the ground. Onlookers cry out in Russian as alarms and sirens sound in the background. This pair of wide-angle gif animations is also worth watching: #1, #2.
It is natural to wonder if this event has any connection to Friday's record-setting flyby of asteroid 2012 DA14. Paul Chodas of the Near Earth Object Program at JPL says no. "The Russian fireball is not related to 2012 DA14 in any way. It's an incredible coincidence that we have had these two rare events in one day."
Realtime Asteroid Photo Gallery
---
---
Realtime Noctilucent Cloud Photo Gallery
[previous years: 2003, 2004, 2005, 2006, 2007, 2008, 2009, 2011]