| | | |
| --- | --- | --- |
| ASTRONOMY ALERTS: Looking for a unique and affordable gift? Give the heavens for Christmas at Spaceweather PHONE. | | |
WHEN AURORAS COLLIDE: A continent-wide network of all-sky cameras has photographed a never before seen phenomenon: colliding auroras that produce explosions of light. The must-see images have solved a long-standing mystery of Northern Lights. Get the full story from Science@NASA.
CURIOUS EVENTS IN NEBRASKA: "Last night, Dec. 16th at 9 p.m. CST, a very bright meteor lit up the completely overcast sky like lightning in southeast Nebraska," reports Trooper Jerry Chab of the Nebraska State Patrol. "It flashed for approximately 2 seconds and was followed by sonic booms and ground shaking, which prompted many calls by the public to law enforcement in a three county wide area." Meanwhile, the USGS says there was a magnitude 3.5 earthquake near Auburn, Nebraska, at 8:53 pm, about the same time and place as the fireball. This map shows the nominal epicenter: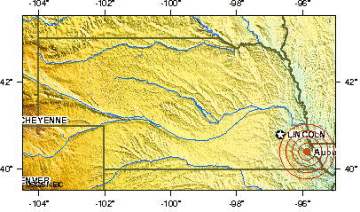 "If the earthquake is confirmed, as it appears to be, I think we have the most cosmic of coincidences: A large fireball around the same time of an earthquake," says Chab. "I am simply amazed!"
One possible interpretation of these events is that a small asteroid hit Earth's atmosphere and caused the ground to shake when it exploded in mid-air. However, the timing might not be right. The quake seems to have preceded the fireball. Several readers have pointed out studies that associate lightning-like phenomena with earthquakes: #1, #2, #3. So, the earthquake might be responsible for both the shaking and the light show. Or it might be a big coincidence just as Chab suggests.
More reports could help sort out the possibilities. Readers in Nebraska with photos or eyewitness accounts are encouraged to submit their observations.
Eyewitness Fireball-Quake Reports
[Related news reports: #1, #2 ]
THREE DAYS ON THE SUN: Three days ago, the surface of the sun was calm and almost featureless. Then sunspot 1035 burst onto the scene. A movie from the Solar and Heliospheric Observatory shows developments from Dec. 14th to the present:
The recently invisible spot is now nine times wider than Earth and crackling with C-class solar flares. A series of eruptions on Dec. 16th sent two and perhaps three coronal mass ejections (CMEs) in the general direction of our planet. High-latitude sky watchers should be alert for auroras when the clouds arrive beginning on Dec. 18th or 19th.
(updated) more images: from Richard Best of Lewes, Sussex, England; from A. Berry and J. Stetson of South Portland,Maine; from John C McConnell of Maghaberry Northern Ireland; from Karzaman Ahmad of Langkawi National Observatory, Malaysia; from Monty Leventhal OAM of Sydney, Australia; from Michael Rosolina of White Sulphur Springs, WV; from Gianfranco Meregalli of Milano, Italy; from Mustafa Erol of Antalya/Turkey; from Fabio Mariuzza of Biauzzo, Italy; from Stephen Ames of Hodgenville, KY;
---
2009 Geminid Meteor Gallery
[sky map] [meteor radar] [Geminid counts]
---
December Northern Lights Gallery
[previous Decembers: 2008, 2007, 2006, 2005, 2001, 2000]
---