METEOR RADAR: The Leonid meteor shower is peaking now. You can listen to the shower even if you can't see it because of clouds or daylight. The Air Force Space Surveillance Radar is scanning the skies above Texas, and when a Leonid passes over the facility--ping!--there is an echo. Tune into Spaceweather Radio for a live audio feed.
LEONID METEOR SHOWER: Earth is passing through a zone of debris from Comet Tempel-Tuttle, and this is causing the annual Leonid meteor shower. If forecasters are correct, observers in Asia could witness an outburst of 200+ meteors per hour between the hours of 2100 and 2200 UT on Nov. 17th. Elsewhere, rates should peak at 20 to 30 meteors per hour.
This morning in Maghera, Northern Ireland, amateur astronomer Martin McKenna witnessed "the most incredible fireball of my life. I was frozen with astonishment and only managed to get these images of the fireball's smoky trail as the fireball itself faded. This was a sight I shall never forget!" he says.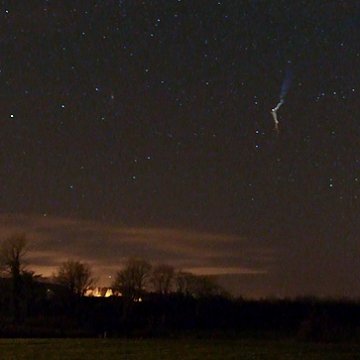 Above: Leonid fireball debris on Nov. 17th. Credit M. McKenna.
more Leonid images: from Chris Peterson of Guffey, Colorado; from Andreas Gada of Oak Heights, Ontario; from Runar Sandnes of Reed, Norway; from Victor van Wulfen of Sutherland, South Africa; from Olivier Staiger in the Swiss Alps; from Malcolm Park of Grafton, Ontario, Canada;
Leonid resources:
IN HOT PURSUIT: Space shuttle Atlantis blasted off from the Kennedy Space Center yesterday to begin an 11-day supply mission to the International Space Station. Photographer Peter P. Lardizabal was 22 miles from the launch pad, but he still got an eye-full: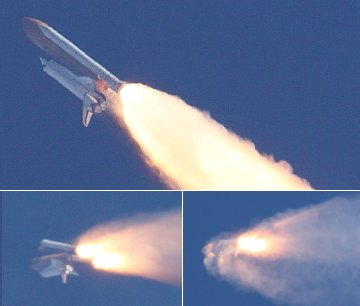 "I took these pictures from the Canaveral National Seashore using a 130mm telescope and a Canon 30D digital camera," says Lardizabal. "It was a great show."
Atlantis is now orbiting Earth in hot pursuit of the ISS. When the two spacecraft dock on Nov. 18th, astronauts will begin unloading spare parts necessary to sustain ISS operations after space shuttles are retired in 2010-2011. Some of the equipment being delivered is large and at present can only be transported by the spacious shuttle.
The shuttle-ISS combo is very bright in the night sky. Check the Simple Satellite Tracker for flybys of your hometown.
---
November Northern Lights Gallery
[previous Novembers: 2008, 2007, 2006, 2004, 2003, 2002, 2001]
---