| | | |
| --- | --- | --- |
| BEHOLD THE SUN: Would you like to see fiery prominences and new-cycle sunspots with your own eyes? On sale now: Personal Solar Telescopes. | | |
A NEW KIND OF PULSAR: NASA's Fermi Gamma-ray Space Telescope has discovered a new kind of pulsar that hints at a previously unsuspected population of stars waiting to be found in the Milky Way: full story.
UNDER THE OVAL: No solar wind? No problem. The skies over Baffin Island, Canada, can turn green even without a geomagnetic storm. These auroras appeared during a period of "quiet" on Oct. 15th: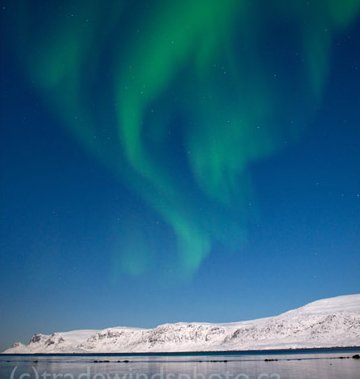 Photo details: Nikon D700, Nikkor 24-70mm f/2.8 lens, 1000 ISO, 6 sec.
"Last night, bathed in the glow of a full moon, the northern lights danced over Pangnirtung Fjord," reports photographer Claus Vogel. "It was a stellar night for shooting the aurora with my Nikon D700."
The display was sparked by nothing special. Baffin Island lies under Earth's auroral oval, a lopsided ring of light encircling the North Pole. Around the oval, Earth's magnetic field funnels electrically-charged particles from space into the upper atmosphere where the flurry of tiny impacts causes the air to glow green--no geomagnetic storm required.
Of course, a real storm is nice, too. Browse the gallery for examples:
Oct. 2008 Aurora Gallery
[Previous Octobers: 2007, 2006, 2004, 2003, 2002, 2001, 2000]
RAINBOWS AT NIGHT: The recipe for a rainbow couldn't be simpler. Splash sunlight across falling rain and voilà--a luminous arc of mythological beauty. Sunlight is crucial to the process, yet last night in Northern Ireland, a rainbow appeared long after sunset: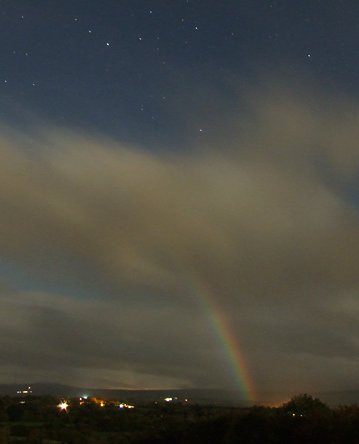 How is this possible? Bright moonlight did the job of the sun.
"The clear sky around the Moon and showers to my west provided the perfect environment for the formation of a lunar rainbow," says photographer Martin Mc Kenna. "It was very intense, exhibiting vibrant red, white, and blue colours visible to the naked eye. I've seen these 'bows for two nights in a row!"
The moon is still bright tonight. Readers, if rain begins to fall through the moonlight, be alert for a lunar rainbow of your own.