| | | |
| --- | --- | --- |
| NEW AND IMPROVED: Turn your iPhone or iPod Touch into a field-tested global satellite tracker. The Satellite Flybys app now works in all countries. | | |
CRESCENT MOON ALERT: When the sun sets tonight, go outside and look west. An exquisitely thin crescent Moon will be beaming through the twilight. Got the Moon? Look directly below it for Venus, too. [sky map]
NORTHERN LIGHTS: Will the sky turn green for St. Patrick's Day? It could happen around the Arctic Circle. A solar wind stream is buffeting Earth's magnetic field and causing displays like this:
"This green corona lit up the night sky sky over the weekend," reports photographer Fredrik Broms of Kvaløya, Norway. "It was absolutely breathtaking--and the best may be yet to come!"
He's right. A coronal mass ejection (CME) is heading toward Earth and it could spark strong geomagnetic activity when it arrives on March 17th or 18th. High-latitude sky watchers should be alert for auroras.
March Northern Lights Gallery
[previous Marches: 2009, 2008, 2007, 2006, 2005, 2004, 2003]
SUPER PROMINENCE: Readers, if you have a solar telescope, scan your optics around the circumference of the sun. A jaw-dropping prominence is surging over the northwestern limb: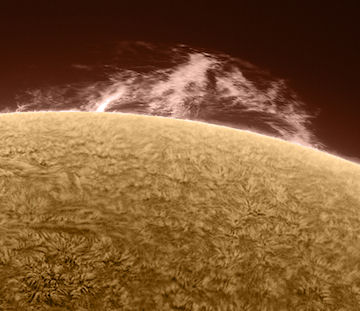 "I think the sun is waking up," says Alan Friedman, who sends the picture from his observatory in downtown Buffalo, New York.
The magnificent magnetic arch streches more than 20 Earth-diameters from end to end. Our planet would easily fit through any of the "little" plasma gaps evident in Friedman's photo. The size of the prominence makes it an easy target for amateur solar telescopes, and many observers say it is a mesmerizing sight as it surges and seethes through the eyepiece. Monitoring is encouraged.
more images: from Peter Desypris of Athens, Greece; from Jan Timmermans of Valkenswaard, The Netherlands; from Patrick Pelletier of Serbannes, France; from D. Krupski and J. Stetson of South Portland, Maine; from Sylvain Weiller of Saint Rémy lès Chevreuse, France; from John Minnerath of Crowheart, Wyoming; from Jérôme Grenier of Paris, France; from Pete Lawrence of Selsey, West Sussex, UK
---